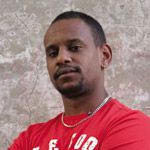 Deadly Vibe Issue 101 July 2005
Growing Pains
He's black and he's back – Brothablack releases his long-awaited album.
One of the country's pioneers of Indigenous hip hop is returning in 2005 from a long-overdue hiatus. With some heavy ammunition in the shape of a new album and a renewed hunger for mainstream recognition, Brothablack is well an d t ruly back.
Brothablack has been in the hip hop game for a while now. One of the pioneers of Indigenous hip hop, many may know him as a former member of the Indigenous hip hop crew, South West Syndicate. Some may have seen him in the hip hop theatre project The Longest Night, or caught him at the Vibe 3on3™ basketball and hip hop challenge. He also had a single release on a Triple J hip hop compilation album, and more recently he was the MC at Sydney's massive Rock Tha Block concert.
While Brothablack is the first to admit that his debut album is long overdue, he is very aware that goo d t hings come to those who wait. He believes that his years of experience in the Australian hip hop underground have made his first release more than worth the wait.
"It's taken me some time as an artist to finally get an album done, so it's a big weight off my shoulders," the 26-year-old confesses. "It was a whole new experience.
"I've really only ever contributed to other people's tracks before, so having the chance to write and produce whole tracks of my own is definitely something I'm keen to keep pushing."
While his first solo project has been in the pipeline for some years, it took Brothablack only nine months to write and record all new tracks for the album, entitled More Than a Feeling.
"More Than a Feeling is actually the name of one of the tracks on the album," Brothablack says. "I think it reflects most strongly where I'm at with my music and the feeling behind it, which made it an obvious title choice for the album.
"Tapping into my own emotions and raw feelings was a new experience for me, and that was definitely something I wanted to put down on the album."
The track More Than a Feeling showcases the more politically-conscious side of Brothablack, who flips verses on the strength and pride that he draws from his Indigenous heritage. Brothablack's words are complemented by a brooding sound scape, cut together with wailing police sirens and various news reports taken from the Redfern riots.
"The main message behind this album is to give non-Indigenous people a good look into an Indigenous male's life," Brothablack explains. "From myself – a young male, and a father – to some of the adversity that I face in society, it's just a short snapshot of the life of an Aboriginal male."
The eclectic album also borrows from a range of influences and sounds. Not planting itself solely in the political vein, its lyrical content continually shifts from Indigenous issues to relationship dramas, fatherhood and plain old fun.
"I wanted to explore a whole range of different music styles on the album, from standard hip hop sounds to hard core dance, to acoustic tracks," Brothablack says. "I think this is a reflection of my own musical tastes and it's something that, as a musician, ,I have always wanted to do.
"I think I've matured a lot as a performer and an artist. Everything in my music is coming from me now, so it's my story. I guess generally I have grown up as a man, which will be very noticeable for listeners out there who know my previous work."
(Story 1/7/2005 end)
He raps, he rhymes, he twists, he slides. The newest member of Vibe Australia, Shannon Williams (aka Brothablack) is our virtuoso in-house MC and connoisseur of all things hip-hop.
Since joining South West Syndicate (SWS) in 1993, Shannon has performed as a musician, rapper, dancer and actor all around Australia.
He was a performer in, and co-devisor of, Urban Theatre Projects' The Longest Night, commissioned by the Adelaide Festival 2002. This production also enjoyed a successful a season in Sydney. Shannon also performed for UTP in Hip Hopera, TrackWork and .
As a performer, facilitator and producer of hip-hop, Shannon has been involved in numerous Sydney-based events, including the 1998 and 2000 Sydney Writers' Festivals. He also took part in Alice Spring's Desert Rap project, and Triple J's popular Hip-Hop Up Top project in Darwin.
Shannon appeared on the CDs World Without Borders and Hip-Hop: A Place of Peace, and has recorded material with leading Indigenous artists.
In addition to his duties as coordinator of the hip-hop element of the National Indigenous 3 on 3 Basketball and Hip-Hop Challenge, Shannon is the event's Assistant Producer (Participation).
Dedaly Vibe Issue 67
What is your full name? Shannon Narrun Williams.
How old are you? 23.
Where are you from? Sydney.
Were you born there? Yes.
What do your friends call you? Brothablack.
What is your earliest memory? Getting lost in Woolworths.
When did you get into music? I started playing drums at 10 and started singing at 14.
Have you studied music or are you self-taught? Self-taught and taught by friends.
If you could form a band with your choice of musicians, who would they be and what would you call it? Bootsy Collins on bass, Quincy Jones on keyboards, the drummer from the Red Hot Chilli Peppers on drums, Jimi Hendrix on lead guitar and myself on vocals and rhythm guitar.
Name a song that most describes who you are. "Pop Ya Collar" by Usher.
What's the funniest thing you've ever done onstage? Once I forgot the words to a song I was performing.
What CD do you have in your CD player at the moment? Charlie Pride's Greatest Hits.
Big headphones: cool or try hard? Try hard, wannabe DJ.
Most fulfilling experience in your life so far? Having my children.
What would you most like to change about yourself? My age.
Who's real deadly in your eyes? My mum.
If you could have anything printed on a T-shirt that you had to wear for the rest of your life, what would it say? Always Was, Always Will Be Aboriginal Land.
What's your favourite footy team? Balmain Tigers.
Who's your favourite footy player? Steve Renouf.
What's your favourite part of Australia? Darwin's Mindle Beach Markets.
You're invited to a fancy dress party. Who or what do you go as? Marvin the Martian.
Michael Jackson: genius or freak? Genius.
What animal are you most like? Tiger.
Where do you see yourself in 10 years' time? Still performing around the country and hopefully internationally.

When Shannon Williams got into rapping and breakdancing as a 12 year old, he never dreamed that it would one day become a career.
Now 23, Shannon (aka Brothablack) is in demand as a hip-hop performer and teacher.
Brothablack is the total package: he can rap, break and beatbox. He's also a loving father who enjoys motivating young people to be the best they can be.
Shannon turned his mind to rapping after listening to performers like Run DMC, NWA and Public Enemy as a youngster.
"I started out by trying to imitate Chuck D and people like that," says Shannon. "Listening to rap music was just a part of my everyday life."
When he was 14, Shannon and some friends decided to start their own hip-hop group, South West Syndicate (SWS).
What started out as a bit of fun between mates became more serious when they realised they could earn money by performing.
"I thought to myself, why be a slave and work in a sweat shop when I can earn money doing this?" he says.
Shannon's musical heroes include LL Cool J, Chuck D and Quincy Jones.
As far as breaking goes, Shannon was inspired by a friend, Dax, the original member of Sydney's only Indigenous breaking crew, Black Connection.
"I used to watch Dax break and think, that's deadly "" I could do that too!"
And that's just what he's doing. As the National Indigenous 3 on 3 Basketball and Hip-Hop Challenge's resident b-boy, Brothablack along with other half of South West Syndicate, Monkey Mark, is planting hip-hop seeds from Broome to Amata, Mildura to Rockhampton.
At each 3 on 3 Challenge, Brothablack runs breaking and rapping workshops, encouraging participants to get up and express themselves through rhythm and rhyme.
"It's important to teach Indigenous young people in regional and remote communities that we have our own rapping and breaking culture," he says. "That way, we can explode the myth about it just being an American thing. We have the talent and the interest right here."
Brothablack's heroes in life include footballers like Nathan Blacklock, Wendell Sailor and David Peachey. He also looks up to actors such as Aaron Pedersen and Deb Mailman
"Deb Mailman and Aaron Pedersen are setting the benchmark for where I want to be."
He's not kidding. Brothablack also has acting experience. He starred in the Adelaide Festival's production of The Longest Night, which also had a successful season in Sydney.
"That was a great experience. I worked with a fantastic cast and it's something I plan to do again, hopefully within the next year," he says.
In the meantime, Shannon and his partner of eight years, Lee, have three solid littla fullas to raise: Jamin, four, Keeden, two, and the latest edition to the tribe, three-month-old Che.
"My family have given me a sense of stability," he says. "You have to know where you've been in order to know where you're going."
Shannon's mum, along with friends Tim Carroll and SWS' Monkey Mark are also very close to his heart.
"They've helped me so much along the way. I couldn't have done any of this without them."