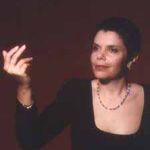 Deadly Vibe Issue 89 July 2004
Access all arias
"I can't remember a time when I wasn't singing," says soprano Deborah Cheetham. "But one of my earliest memories was of being a very small child and leaning up against my adopted mother in church and listening to her sing."
Deborah grew up in the southern Sydney suburb of Oatley with a white Baptist family. Taken from her mother at just three weeks of age, Deborah had little awareness of her Aboriginal heritage until she was in her twenties.
"But when I met my family we had an immediate connection, because they all sing as well," she says.
It's little wonder there's music in Deborah's blood – her uncle is none other than the legendary Jimmy Little!
Apart from regular appearances at public and corporate events, Deborah also has her own production company, Short Black Productions. On top of this, she also regularly volunteers her time to visit schools and talk to students about what it means to be Aboriginal and a member of the Stolen Generations.
"It's something that's very important to me," she says. "I believe that the difference between living with discrimination and not living with discrimination is education."
Deborah recently performed at this year's Sorry Day unveiling of the memorial to the Stolen Generations.
"I sang Dali Mana Gamarata, which is a Welcome to Country in a Sydney-based language of the Eora nation," she says. "At the moment I'm composing a lot of new music like that – songs that are relevant to Indigenous performers and audiences."
Before a performance, Deborah has several rituals to steady her nerves. She avoids smoky venues, warms up for an hour – and then there's the towel.
"I have this towel that my adopted mother gave me before she passed away," Deborah explains. "It's a bit old and ratty, but I always use it to set my make-up out on. It makes me feel like I have a level of control over my environment – I wouldn't go anywhere without it."
(Story 1/7/2004 end)
If you don't know who Deborah Cheetham is yet, you will soon. The Yorta Yorta woman with a voice like milk and honey has put in the hard yards, and now she's ready to go stellar. Vibe meets a truly deadly diva in the making.
When the black lady sings, folks sit up and listen. It's as simple as that. Deborah Cheetham's vocal cords make time stand still, enchanting all within earshot. And lately, that's been quite a few pair of ears.
All who attended the opening ceremony of the Sydney 2000 Olympic Games, for instance. Or the Centenary of Federation Concert in Sydney's Centennial Park on New Year's Day. Not to mention the Olympic Arts Festival's opening ceremony at La Perouse and the Sydney Opera House. And last month's Ceremony concert in Melbourne with Yothu Yindi and the Australian Youth Orchestra (more on that later).
But for this classically trained soprano, actor, composer, director and playwright, getting to where she is now has been a long journey. People might know her name now – and more importantly, her voice – but that's a result of years of study and loads of legwork.
A graduate of the NSW Conservatorium of Music, Deborah studied in New York at the world-renowned Julliard School where she was tutored by the Metropolitan Opera Company's head repeteteur, Joan Dorneman.
Returning to Australia she wrote, performed and produced a number of shows in the early 1990s including Short Black Opera Café and Death Scenes and Drama Queens. She also sang in Gershwin's Porgy and Bess in Brisbane, Bizet and Hammerstein's Carmen Jones in Melbourne, and Bizet's Carmen in Sydney.
Then in 1997 she found great success with her one-woman show, White Baptist ABBA Fan, a production commissioned by the Festival of the Dreaming's artistic director, Rhoda Roberts. An intimate picture of her life so far told through story and song, Deborah toured the show all around Australia, before taking it to Manchester, Zurich, Hanover, London and Auckland.
Now, fresh from the success of Ceremony, her Federation Festival gig at Melbourne Concert Hall with Yothu Yindi and the Australian Youth Orchestra, she's getting ready for a publicity meltdown. The reason? Three words: Dali Mana Gamarata.
"It means 'welcome to comrades' in a Sydney-based language of the Eora nation," explains Deborah of the song she's cut with esoteric dance/dub outfit, Wicked Beat Sound System (WBSS).
"I was originally commissioned to write the song for the Olympic Arts Festival last year, and I performed a slightly different version at the opening ceremony of the Olympic Games. Wicked Beat arranged it for the album, because the song was originally a cappella for four voices."
That album is Corroboration (Festival Mushroom), a compilation of black/white musical collaborations. Produced by Kurt Luthy, the man responsible for best-selling compilation To Hal And Bacharach, the album also features tracks from Jimmy Little/Kylie Minogue, Archie Roach/Augie March, and Stiff Gins/P'nau.
But Deborah and WBSS' track is the first cab off the rank – and rightly so. An ethereal soundscape of bewitching melodies and alluring grooves, "Dali Mana Gamarata" is sure to ignite interest in the compilation. Open your ears Australia, this is the sound of reconciliation!
Despite coming from opposite ends of the musical spectrum, Deborah says that Damian and Dave from WBSS were an absolute pleasure to collaborate with. "We're very different," she says, "but that's what allowed us to complement one another. As soon as we met I realised that we could talk the same language. Their form of expression is different to mine, but it's still musical language."
The fact that Deborah and WBSS had the song laid down in the studio in just two days is proof that theirs was a winning collaboration. "Our time together was intensely creative – and that pretty much sums up our working relationship. We get together and things just gel."
Deborah and WBSS may very well get together again soon, as there is talk of them recording an entire album together. Two major US record companies have signalled their interest. But right now, Deborah is preparing herself for that meltdown.
"I don't want to pre-empt anything, but I have great faith in our track and the album. I hope it's a huge success on every level, because reconciliation has to be brought back onto the agenda again. It's gone off the boil for a lot of our nation's leaders. But if we get the airplay that we deserve, hopefully it will bring the issue back."
Deborah believes such an album is incredibly necessary at this point in Australia's history, because it will serve to remind us that reconciliation is an ongoing process, not something that's already been achieved. "Artists have always had both the pleasure and the responsibility of being the antennae of society. We can sense the benchmark for attitudes and behaviours."
There's no doubt that Deborah's senses are incredibly fine tuned. What would you expect from someone who had a packed Melbourne Concert Hall eating out of her hand last month? "A star is born tonight," declared Sir Gustav Nossal of the diverse diva. The Age, meanwhile, called her mini-recital of arias by Handel, Mozart and Cilea "gorgeous" and described her as the embodiment of all that Melbourne's Federation Festival hoped to achieve.
"It was an incredibly emotional and wonderful evening," says Deb of her Australian concert debut. "And what with Yothu Yindi and the Australian Youth Orchestra on the same bill, Ceremony was a real fusion of cultures."
Word has it that conductor/composer Richard Mills, who led the orchestra and wrote much of the music performed on the night, has already begun writing a new work with Deborah in mind. And frankly, who could get that bluebird voice out of their ears?
But maintaining such a voice requires a lot of dedication. As a lyric soprano, Deborah is aware that her entire body is an instrument. "As a result, everything I do in my day-to-day life is geared around nurturing and protecting my voice. For instance, when someone in my house gets a cold, I have to wear a surgical mask. It's not like being a rock and roll star where you can party all night and it just makes your voice sound better!"
That said, our Deborah is no fan of the elite 'airs-and-graces' mentality that pervades so much of the opera and classical music spheres. Which is why her latest production, Till The Black Lady Sings – which premiered at last year's Brisbane Festival and looks set to visit other cities soon – is such a breath of fresh … arias.
"I love opera and recitals, but they can be a bit elitist. My goal is to sing operatic repertoire that I'm suited to, but to take it to an audience that perhaps don't seem themselves as opera goers. I want to make it more accessible, which is what I've done with Black Lady. It's essential a recital, but there's storytelling and patter. It's not a black-tie affair!"

Deborah Cheetham, Soprano and author of internationally acclaimed play, White Baptist Abba Fan, is a graduate of the N.S.W Conservatorium of Music and has studied in New York at the Julliard School of Music.
As an actor and a singer Ms Cheetham has performed in Germany, Switzerland, the United Kingdom, New Zealand and throughout Australia. In the theatre Ms Cheetham has recently added to her list of credits a season of White Baptist Abba Fan to full houses at the Barbican Centre, which is the home of the Royal Shakespeare Company in London.
On the concert platform Ms Cheetham has established her place as an artist in great demand with performances for the 2000 World Expo in Germany, the Opening Ceremony of the Sydney 2000 Olympic Games and the 2001 Centenary of Federation Concerts in Sydney and Melbourne.