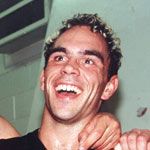 Deadly Vibe Issue 66 August 2002
Stealth Bomber
Cory McGrath has been playing at the senior level since the beginning of last year. In that time he's managed to impress selectors and coach alike with his fast pace and solid defensive skills.
Born in Northam, Western Australia in 1979, Cory has Wongi heritage and grew up in Nyabing, near Katanning. As a child he would often accompany his mother and three brothers " Toby, Ashley and Bradley " to the local footy competition on a Saturday to watch father Cliff play.
"It was a family day," says Cory. "All the relatives would go along and support Toodyay, the local team. Dad played as a half-forward/fullback, and I would run water for the team."
Cory first played footy at Nyabing Primary School, and later, Katanning Senior High School. In 1994 he was chosen to represent his state's U15 Schoolboys team in the national championships in Adelaide. Three years later he was selected to the U18 team for the nationals in Melbourne.
After a stint in the Western Australian Football League (WAFL) playing for South Fremantle, "˜Cozza' was recruited to Essendon in 2000. Placed on the Bombers' rookie list after signing a two-year contract, he managed to kick seven goals and lay 25 tackles in 13 appearances.
He recalls last year's grand final against Brisbane Lions at the MCG. "I was used as an emergency player for that game," he says. "I was a bit disappointed that I didn't sit on the bench but it was a big buzz. I'm still only young and the experience will only be a positive one for me."
Earlier this year Cory signed on for another two seasons with the Bombers, which will see him sport the red and black at least until the end of 2003. And, notwithstanding an ankle injury that kept him on the sidelines for six weeks, this season could see the speedy 23 year old well and truly emerge.
"Cory is a committed player with a promising future," says Essendon legend Michael Long. "He has talent, he's determined to make it and he's one of the hardest trainers here. Cory is a very valuable asset to our midfield and I think he will be with Essendon in the long term."
All four McGrath boys love their football. In addition to 19-year-old Brisbane Lions halfback Ashley (see over), there is Toby, 21, who has followed big brother (and flatmate) Cory's lead by going from South Fremantle to the Bombers. Currently honing his skills as a halfback flanker in the VFL, he looks set to join his brother on the senior side before too long, injuries notwithstanding.
"Unfortunately Toby was out for six weeks after fracturing his skull in his first game against North Ballarat in the VFL," says Cory. "He was knocked into the interchange bench and finished with four cracks around his eye socket. He's back playing now, though, and enjoying it."
That leaves 17-year-old Bradley, who is playing with South Fremantle Colts while completing his studies at Armadale Senior High School. Will he get to join his three brothers on the east coast?
"Bradley is going well with his game at the moment, but he is young and still in the development stage," says Cory. "He's quite tall and I think he might be a chance to play in the AFL in another two years."
If all four brothers eventually play in the AFL, they will be in elite company. In the 1980s the Daniher brothers " Anthony, Chris, Terry and Neale " all played with Essendon, once in the same game!
Cory is proud to a member of the blue-chip side, and was understandably distraught when superstar captain James Hird sustained severe facial injuries earlier in the season.
"James was a huge loss for the team but we've stood up and filled the void. And we've been fortunate enough to win a majority of our games without him."
In fact, Cory regards his captain " who's now back on the field " and Jason Johnson as the best he's played with. And the best player in AFL at the moment? "Simon Black from the Brisbane Lions. He has an amazing ability to win the ball."
Cory nominates his parents, Cliff and Marlene, as his inspiration, along with the great Michael Long. "Mum and Dad have been there for me from day one, while Michael has been a very positive influence and given me great advice."
In addition to his football career, Cory is studying part-time for a degree in Accounting. Where does Cory envisage himself in the future? "Achieving success with Essendon and football, then graduating from university and one day owning my own accountancy business."
(Story 1/8/2002 end)