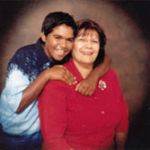 Name: Andrea Collins
Everyone who lives in Nhulunbuy, a community of about 4,000 people on the Gove Peninsula in Arnhem Land, knows the name of Andrea Collins.
Andrea is a busy woman – she heads the ATSIC office at Nhulunbuy, she is the secretary of Miwatj Aboriginal Health Corporation, she's involved in the local basketball and netball scene, and she works very hard behind the scenes to make her community a better place for everyone.
When the National Indigenous 3 on 3 Basketball Challenge went to Nhulunbuy, Andrea went all-out, pitching in any way she could to help make the day a big success.
Andrea loves sport so much (she loves to hit the basketball court herself) and she does so much work to help others to play sport too that in 1999, she won a Deadly award for her Outstanding Contribution to Indigenous Sports.
The following year, she had a great experience when she took seven kids from remote areas to Melbourne as part of a cultural awareness program. The trip included watching two games of AFL – Essendon against Hawthorn and Collingwood against Geelong – but it wasn't only for kids who are good at Aussie Rules.
The idea, Andrea says, was to show the kids that if they became a tennis star or hockey star or a star in whatever sport they happen to play, this was what big-city life would be like.
"They talked about it for ages afterwards," says Andrea. "It was an experience that will be in their minds for the rest of their lives.
And that broad approach to life is also reflected in Andrea's role in developing health care programs and policies in the region. The initiatives she looks at are more about "cultural wellbeing", she says.
One of her projects has been to establish a renal unit in the area. She says she hopes the unit will be established this year so that patients – along with their support network – no longer need to take the 75-minute flight to Darwin for treatment and deal with all the financial and social upheaval that entails.
Before Andrea moved to Gove in 1987, she was a busy woman in another place – Rockhampton. "I was talking about old times the other day and realised I was on 32 committees in Rockhampton!" she says, laughing. "Sometimes I do wonder how I fit it all in.
"But I was born to do this stuff," she says. "Yet I don't feel indispensable – I'm only indispensable to myself."
And of course to her 13-year-old son, Gabirri, who's going to school in Brisbane and following in the sporty footsteps of his mum. She reports that Gabirri loves to play cricket.