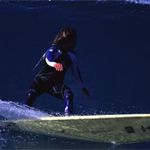 Like his big brother Lucas, 19-year old Ben is a longboard rider who also dances with the Minjungbal Aboriginal Dance Group. Ben is currently ranked in the top 100 in the world and in the top 20 in Australia.
"I started out on shortboards when I was young because that's what everyone did," says Ben. "But I used to watch Lucas on the longboard and he'd catch heaps more waves than me. It looked excellent so I gave it a go and I haven't looked back since. It's heaps different to the shortboard. In a way it's more relaxing. You really slow down when you're on the longboard and you feel like you've got more control."
This year Ben has certainly taken control of his surfing, following Lucas overseas to compete on the international circuit.
"We went to Spain, Portugal, France and Brazil. It was awesome! Competing overseas with the best really lifts your own standards. I did pretty well. In Spain I placed 17th, which I was stoked with. I wasn't so lucky in Portugal. I rode four brilliant waves and all I needed was one more to get through to the next round, but no more waves came along. I was spewing! It's one of those really tough situations and you can feel ripped off, but that's surfing."
Ben believes that if you're serious about surfing, you have to head overseas to compete.

"It's about getting your name out there so people know who you are. That way you can attract sponsorship and you'll also get invited to more competitions. The more comps you go in the better you get!"
But competitions also have their downside.
"At comps there's always people who want to party, who go pretty hard. It's so tempting to just cut loose, especially if you're overseas, but you've just got to block it out and stay focused."
Ben really needs to stay focused now that he's up against his own brother in international competition.
"I've never beaten him but I've got a few years on him," he says laughing. "Of course I want to be number one – who wouldn't? At the very least I want to be recognised as one of the top board riders in the world."