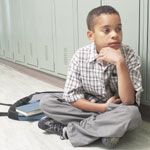 The wrong schoolbag can damage your back.
Recent research has revealed that up to 70 per cent of students may be damaging their spines by carrying their schoolbag incorrectly.
Macquarie University in NSW recently surveyed a group of students, and found that 70-75 per cent of them displayed some form of lower or upper body problem associated with carrying a heavy bag.
They found instances of 35kg children carrying bags weighing up to 15kgs. This is equivalent to an average adult carrying a 40kg bag all day!
Another recent study published in the Australian Spine journal investigated the link between backpacks and back pain in schoolchildren. They found:
The weight of the average student's backpack is heavier, proportionally, than the legal load-bearing limit for adults;

79.1 per cent of children say their backpacks feel heavy;

65.7 per cent report feeling fatigued by the weight of their backpack; and

46.1 per cent report back pain caused by their backpack.
However, it's not just the weight of the schoolbag that is causing the problem; it's also how it is carried. A heavy schoolbag that is carried over one shoulder can, over 12 years of school, cause chronic back problems that can last into adulthood. Carrying a schoolbag incorrectly can cause muscle strain, a distortion in the natural curve of the spine, and rounding of the shoulders.
Schoolbag risk factors for spinal damage include:
A schoolbag that weighs more than 10 per cent of the child's weight
Holding the bag in one hand by its straps
Carrying the bag over one shoulder
An incorrectly packed backpack
An incorrectly fitted backpack
These risks can be reduced in a number of ways:
Backpacks should be worn so that the weight is distributed between the hips and the shoulders. N ever sling the backpack over one shoulder – use both shoulder straps.
Adjust the shoulder straps so that the bottom of the backpack is just above the waist " don't wear the backpack slung low over your backside. When fitted correctly, the backpack should contour snugly to your back, rather than hang off your shoulders;
Don't carry lots of equipment at the same time, like sports gear, musical instruments or art materials. Don't carry all your schoolbooks around " only take what you need for the day;
Consider more than appearance when you choose a school bag. A badly-fitting backpack can cause back pain, muscle strain, or nerve damage. Look for a backpack endorsed by an Australian professional organisation, such as the Australian Physiotherapy Association or the Chiropractors' Association of Australia;
Pack the heaviest items so they're closest to your back. If the heaviest items are packed further away, this throws out your centre of gravity and causes unnecessary back strain;
Make sure the backpack is sturdy and appropriately sized;
Look for backpacks with wide, padded shoulder straps which contour to the body, and additional waist or chest straps that will help keep the load close to the body and help maintain proper balance. Shoulder and hip straps should be adjustable, and the rear of the backpack padded for comfort;
A backpack should never be wider than chest width or any lower than the hollow of the lower back.;
The maximum weight for loaded backpacks should not exceed 10 percent of body weight; and
Take a break " give your shoulders and back a rest and put your bag down when you don't need it.