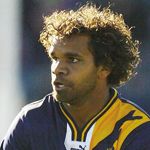 Deadly Vibe Issue 91 September 2004
The Eagle soars
Making it in the AFL takes constant improvement and development. And for a young player with all the potential in the world, living up to expectations and performing at the highest level week in, week out can be a real test of character and talent.
One player who hasn't had a problem walking the walk of a budding AFL superstar is the West Coast Eagles' high-flying forward Ashley Sampi.
Ashley started off season 2004 with a bang, kicking 16 goals in just six games. While he endured some personal highs and lows as the club battled just outside the top eight, he proved himself an integral part of West Coast's overall success.
As a vital part of a young, developing team, Ashley's hard work during the off-season paid off this year with yet another strong showing in front of the sticks. The sign of a good player is one who constantly improves or adds to his game, and so far Ashley has gone from strength to strength.
If you're a sports fan, it's more than likely you've seen Ashley on your television or newspaper recently, soaring above the shoulders of team-mates and defenders to claim the most spectacular mark of recent seasons.
That magical grab against the Demons is sure to become the most memorable image of season 2004, and while bringing Ashley adulation and praise, the feat has only added to the great pressure already resting on the young West Australian's shoulders.
In his short time in the AFL, 20-year-old Ashley has already shown that he is more than capable of handling pressure and coming up with the goods. And never was that pressure more apparent then in mid-July when, after a series of lacklustre games, Ashley faced the possibility of losing his place in the run-on side.
With the axe hovering over his head, Ashley got down to business, returning to early-season form and booting the Eagles to victory over Essendon.
(Story 1/9/2004 end)
Deadly Vibe Issie 62 April 2002
This newly minted West Coast Eagle has a famous niece and a fabulous future.
What a year it's been for the Sampi family of Broome. First, 13-year-old Everlyn graces the big screen in Phil Noyce's acclaimed feature film Rabbit-Proof Fence. Now her uncle Ashley looks set to hit the big time, having just been drafted to West Coast Eagles from feeder club South Fremantle.
The Eagles didn't waste any time in putting Ashley up to play in pre-season competition against heavyweights Geelong and Richmond. It was a taste of things to come for the 18 year old.
"Richmond are probably the toughest team to play against," says Ashley. "And James Rahilly of Geelong is definitely the toughest player I've ever had to mark."
As a young fulla growing up in Broome, Ashley watched his uncles kick the ball round and looked up to AFL superstars like Dale Kickett and David Wirrpunda. Now he's playing alongside one of them.
"David has really taken me under his wing and helped me to settle in." He's happy to be on the same team as captain Ben Cousins, too. "Ben is probably the best player I've played with," he remarks candidly.
Standing 177cm tall and weighing in at 75kg, Ashley may not be the biggest player in AFL but he's certainly one of the quickest.
"My best assets on the field are my speed, my defence, my ability to kick off both feet and my leap. In terms of position I'm playing half-forward at the moment, but I'd rather be in the midfield or on the wing."
Gary Stocks of West Coast Eagles believes Ashley is an exceptional young talent who will have a major impact on the Eagles.
"Ashley has amazing skills and he anticipates the game well. He also has time on his side. We're not rushing him into anything, because we see him having a long career here with our club."
In addition to his footy, Ashley has just commenced a part-time marketing traineeship with the club, stating he wants to have something to go on with after football. How's that for a forward planning?
"My plans for the future are to simply stay and develop with the Eagles, cement a spot for himself in the top grade and, hopefully, win a premiership."
We hope so too, Ashley!

(Story 1/4/2002 end)