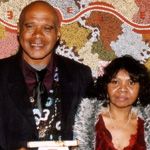 Deadly Vibe Issue 93 November 2004
Let's stick together
Two of our most beloved performers, Archie Roach and Ruby Hunter, have been Deadly favourites since the event began. So it was no surprise that the pair once again walked away with a Deadly in 2004, this time for Excellence in Film and Theatrical Score.
Archie and Ruby won the award for their production Ruby's Story, a beautiful and moving tale of stolen children and stolen water. They collaborated with composer and founder of the Australian Art Orchestra, Paul Grabowsky, to bring this stirring tale to life.
Ruby's Story has toured nationally and was a highlight of this year's Message Sticks Festival at the Sydney Opera House.
"Ruby's Story was a collaboration with Aboriginal people and non-Aboriginal people that created something beautiful and good," says Archie. "An award like this is confirmation that Aboriginal people can work with all sorts of people from all fields and produce excellent work."
The two have also created a new show, Kura Tungar, which will be touring nationally later this year.
"It's beautiful when you know you're appreciated for the uniqueness of what you contribute, and to work with non-Indigenous people in this country is the most heartfelt thing we can give," Ruby says. "I believe that Aboriginal people and non-Indigenous people can work together towards a more vibrant, full-on way of understanding.
"We all have unique talents and something very important to give each other – the strength to continue on with our music, to let it generate to the next generation."
(story 1/11/2004 end)
Deadly Vibe Issue 89 July 2004
Archie Roach and Ruby Hunter together make beautiful music.
You'd be hard-pressed to find two musicians more respected than Archie Roach and Ruby Hunter. Both have forged careers in the music industry by creating work that speaks to the hearts and minds of Indigenous Australia.
Now working together, they have been touring the country with their new show, Ruby's Story. It tells the story of Ruby's extraordinary life through words and music, and deals with issues surrounding the Stolen Generations, Ruby's search for love and identity, and the importance of respect for our history and our environment.
"The feedback we've received has been really positive," says Ruby. "People have been truly moved, feeling that it was their story being told too. The emotion in the room was tangible."
The show debuted at the 2004 Messagesticks festival held at the Sydney Opera House.
"My family came to see us, and they were all moved by it," Ruby recalls. "My brother told me he was lost for words."
It's this kind of effect that makes Archie and Ruby so well-loved, although both have maintained a modesty that verges on the bashful.
"We're just doing what we do – telling our story," Ruby says.
Ruby says she and Archie already have some future projects sizzling away on the back-burner.
"Sometimes, on the spot, we'll just come up with something together," say Ruby. "But sometimes we work separately. I think it's important to maintain a difference between us."
It's that difference that makes Archie and Ruby such a successful entity. But one thing they share is the belief that living your life by a few simple rules can make all the difference.
"Keep your strength and believe in yourself," Ruby says. "But be good to others – respect others and listen to them always."
(Story 1/7/2004 end)
Deadly Vibe Issue 81 November 2003
No two people personify the heart and soul of Indigenous music quite like Archie Roach and Ruby Hunter.
While both Ruby and Archie have won Deadly awards in the past, 2003 marked the first time the two would be jointly awarded for their combined services to Indigenous music.
What more can be said about the incredible careers of Archie Roach and Ruby Hunter? Both of them are certified music icons and pioneers. Their work has inspired thousands while bringing the forgotten voices and stories of many more Indigenous people to the attention of the wider Australian public.
Archie's debut album release in 1990, Charcoal Lane, earned him two ARIA awards – for best Indigenous album and best new artist. Three years later, his second album Jamu Dreaming was released. In 1995, he toured extensively through the United States, Canada, Britain and Europe.
Archie performed as part of a presentation to the Human Rights Commission's Inquiry into the Stolen Generation in 1996 before touring the nation with Tracy Chapman. His third album, Looking For Butter Boy, was released in 1997. He has received two Human Rights achievement awards, five ARIAs and a Deadly for Male Artist of the Year.
In 1994, Ruby Hunter became the first Aboriginal women to record a solo album with Thoughts Within. At the 2000 Deadly awards, Ruby stole the show, claiming awards for Female Artist of the Year, Album Release of the Year, Single Release of the Year and Outstanding Contribution to Indigenous Music.
"It's both of us," said an emotional Archie at the ceremony, as he read the plaque on their Deadly award and handed the speaking duties over to Ruby.
"We'd like to say thank you very much. It's a great honour to receive such an award. Archie and I have always kept each other strong in words, wisdom and in heart and family," said Ruby.
"I was taken by what Archie was doing in the beginning, and I thought, "˜I might have a go'. So it's all right to have a go at something in life, to achieve any goals you want, whether it be writing, acting, painting, singing or dancing."
(Story 1/11/2003 end)