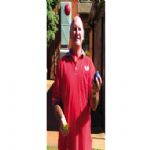 Name: Dawn Likouresis
Dawn Likouresis first came to the remote South Australian town of Coober Pedy when she was just 20. After what was originally meant to be only a three-day visit, Dawn decided to stay in Coober Pedy and is now an integral member of the community where she has lived for the past 22 years.
Originally from Port Augusta, Dawn, now 42, has raised all three of her children, Leila, 20, Eldine, 19, and Shaquille, nine, in the famous central Australian opal-mining community.
"Being a mother is just the most exciting thing you can do," says Dawn.
"You do all the things you remember from your own childhood. I've been to concerts with my children and plenty of other things I wouldn't have done again otherwise."
The Likouresis clan is a tightknit bunch. They do just about everything as a family – and that includes work.
"I'm proud of everything about my children, especially the way they are always there to lend a hand," says Dawn. "No matter what I'm doing, my children are always there, getting involved with my work and helping me. They are really a part of everything I do."
Because they spend so much time together, Dawn finds that the hardest thing is watching her children branch out on their own. Her eldest son now lives in Adelaide, where he plays for an under-19 soccer club.
"It's hard watching them go out by themselves and I usually can't sleep until they get home," says Dawn, laughing.
As well as focusing on her family, Dawn also spends plenty of time working for the young people of the Coober Pedy region.
"I do a lot of volunteer work in the community with young people," says Dawn, who is the chairperson of the ASSPA committee and a member of the Umoona council.
"Many of the youth out here don't ever leave – they have never been to the city or have never seen a live concert or even a live football match," explains Dawn.
Because of her commitment to the youth of the community, Dawn was instrumental in bringing the Vibe 3on3 to Coober Pedy last month. And of course, all of her children were on hand to support their mother and lend a hand wherever needed.
Dawn says her advice for other parents would be to "just encourage your children, don't drink or smoke around them, and always give them good, healthy food".
She adds: "I think it's important to feed your kids with the right kind of food, always put a big emphasis on their health and, most importantly, make sure that they grow up in a safe environment."