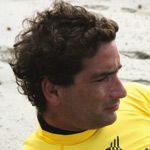 Deadly Vibe Issue 85 March 2004
Soul surfer
Take note – surfing isn't all about competition. Its therapeutic powers move far beyond the winners' podium.
As Anthony Hume will testify, when it comes to surfing the biggest winner is the soul.
While Anthony has competed in events from Victoria to Newcastle and Fingal in NSW, he by no means considers himself as a competitive surfer. This side of the sport motivates him very little. He describes himself as being more into the spiritual benefits of surfing.
"More than anything, I like going into the big Indigenous competitions just to get a chance to get together with all the blackfellas," he says.
Even though winning competitions may not be a priority for Anthony, he still managed to win the open men's championship at last month's Victorian Indigenous titles, narrowly outpointing last year's champion and good friend Rangi Pito.
"I was out there to have fun and not necessarily to win, but winning is a definite bonus, and I did have to rub it in with Rangi a bit," says Anthony, laughing.
"Overall, it was the vibe of the whole weekend that was the highlight and just watching the young kids' abilities getting better and better. You know that you're playing a part in that by being a role model and someone they can look up to."
All surfers tend to have one thing in common, and that is their passion for the sport. "It's the thrill and the fact that you're always learning," says Anthony, when asked what he loves about surfing.
And now he hopes that other Indigenous youth can experience some of the same passion and love of surfing that he has.
"I'd just say, take it up, give it a go and if you like it stick with it," says Anthony. "It is the type of sport where you can really be yourself and it's great for your soul, which makes it perfect for Aboriginal people. Being in the water really helps you to express your spirit."
(Story 1/3/2004 end.)