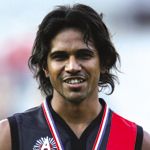 Deadly Vibe Issue 101 July 2005
Showtime
Andrew Lovett has exploded out of anonymity in 2005 to become one of the AFL's hottest new talents.
Andrew Lovett has emerged this season from the Bombers rookie list to become one of the AFL's latest excitement machines.
But for Andrew, his journey from teenage talent to AFL success has not been a smooth one " he achieved his dream the hard way. But for this 22-year-old midfielder, that just makes his position now all the sweeter.
"I think that my success this season just comes off the back of a lot of hard work and making the most of my opportunities," says Andrew, who has been dubbed "Showtime" by coach Kevin Sheedy. "I have always had the self-belief that I could do it."
After a poor performance in the VFL under 18s in 2002, Andrew failed to be drafted and thought perhaps his dream of playing in the AFL may have passed him by.
"I guess in a way I did think that was it for me as far as the AFL goes," Andrew admits. "I went back to playing in my local competition, but I also always felt that another opportunity would come my way.
"I knew I had what it takes to make it at the elite level. It was just a matter of me putting my head down and working hard for it."
After not being drafted, Andrew was advised to remain with his team, the Northern Knights. He then began playing for North Heidelberg in Melbourne's Diamond Valley league before heading over to Western Australia to play for East Perth in the WAFL, where he believed he had a greater chance of making it into AFL.
"Up until the moment I decided to move to Perth I had always lived with family and relied upon family and friends for everything," Andrew says. "So when I went to WA it was the first time that I really had to fend for myself; I had to get my own job, have my own place and I really grew up a lot and became more independent. I think that because of that I am now much more mature, both as a person and a player."
After impressing in the WAFL, Andrew got his opportunity with the Bombers. A long-term injury for the Bombers' Andrew Lee meant that Andrew was promoted from the rookie list. Since then he simply hasn't looked back.
In only the third game of his AFL career " the Anzac Day match at the MCG against Collingwood " Andrew electrified the crowd with his skill and pace, helping himself to 20 touches and seven marks as well as two last quarter goals which sealed the Bombers victory. This brilliant performance did not go unnoticed. After the game Andrew was awarded one of the great honours in the game, the Anzac Day Medal.
"It was unbelievable," Andrew says of his Anzac Day triumph. "Having only a played a handful of games I was just in shock. I don't want to say whether I think I deserved it or not, I don't know, but it is definitely something that I will remember for the rest of my life."
Andrew soon backed up that stellar performance with another outstanding game against Fremantle in round eight, when he kicked the Bombers to victory with five goals.
Andrew has been one of the Bombers' shinning lights in what has so far been a disappointing season. And while the Bombers may not feature in the finals series come September, with young guns like Andrew on the roster, the future is looking bright.
"Essendon is a very successful club and have only missed the finals about three times in the last 10 or 15 years," Andrew says. "But we are a developing unit with a lot of young, up-and-coming players, so there is plenty to look forwards to.
"It's a very proud club and I'm happy to be here. I wouldn't be anywhere else."
Now that his opportunity has come, Andrew plans on making the most of it. As far as he is concerned, his great form this season is just the beginning " there is still plenty left for him to achieve in the future.
"My first goal was always to buy myself a house, and I'll be looking to do that in the near future," he says.
"Long term, I would love to become the first Aboriginal player to play 200 games for Essendon.That would be a great honour."
Andrews's success this season has made him a great role model for those players not drafted as teenagers and for others toiling away in leagues across the country who are dreaming of getting another crack at the big time. His success has proved that with hard work anything is possible, and that it is never too late to achieve your goals if you have the passion, desire and belief in yourself.
"Just never, ever give up on your dreams," he says. "Listen to the advice of people who have been there.
"Opportunities will always come along, so make sure that you take them and make the most of them."
(story 1/7/2005 end)