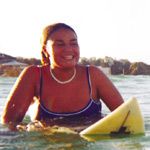 Deadly Vibe Issue 85 March 2004
Gold Coast surfer Amber Mercy had her scariest moment in the water in Tonga this summer.
" My leg rope broke and I lost my board," the bubbly 19-year-old says. "It happened just as a set came through, and I got my butt kicked, basically. I was pretty scared. I called out to my mate, and he said, 'Swim to the boat, swim to the boat'.
" The waves were five to six feet, and I had nothing to hang on to. I was getting dragged across the reef. I was shaking by the time I got into the boat – I was freaking out a bit."
Even though it was a scary situation, Amber's injuries were minor – she suffered nothing more than a cut foot. That didn't stop her from competing in the Oceania surfing cup at Fingal last month, where she made it through to the semi-finals.
Next year, she's determined to do even better, and to make it onto the women's surfing team that will head to Tahiti.
She's so determined to go far that part of her training even includes rock-running -which is running underwater while holding a rock (those who have seen the movie Blue Crush will remember it!) – to build up her lung capacity.
Amber has also been surfing three or four times a day during her summer holidays, but she that will be drop back after she heads back to Australian Catholic University in Brisbane for her second year of a teaching degree.
" I just wanted to get something under my belt," Amber says of her studies. "I love travelling and they need teachers everywhere in the world, so it's something I can do to get some cash when I need it.
" I want people to know how determined I am to do well next year – and everyone had better look out because I'm training!"
(Story 1/3/2004 end.)
Deadly Vibe Issue 58 December 2001
For many young surfers the idea of combining surfing with schoolwork is nothing but a pipedream. But for 17-year-old Amber Mercy from Currumbin on the Gold Coast, that dream is a reality!
"Our chicks team is the best in Queensland," says Amber proudly. "We're part of the Sports Excellence Program at Palm Beach Currumbin High School, so we get to spend about four hours a week practising out in the surf as part of our curriculum."
It's not all about coasting on the perfect wave, though. The five-strong team are serious about maintaining their peak physical condition. That means 20- minute drills aplenty and lots of weight training. But hey – when you're the best in the state, you've got to stay that way!
Amber's most recent competition victory was winning the women's open division of Newcastle's Indigenous Surf Pro back in March, which was part of Newcastle Surfest. She also performed well last year in Fiji as part of the Indigenous Australian squad competing in the All South Pacific Islander Championships.
"That was an awesome experience," recalls Amber. "I managed to place fifth and had a really good time there."
Amber first had a go on her dad's surfboard at the age of eight but didn't take it seriously until she was 13. Now she's one of the best surf chicks around. However, she says that female boardriders still have to fight to be taken seriously by their male counterparts.
"Girls don't get much recognition surfing on the Gold Coast. All the boys try and cut you off and steal your waves."
Amber's most memorable victory to date was winning the open women division of the 2000 Billabong Indigenous Surf Classic at Fingal.
"It was great to win at Fingal because I trained really hard for it and my dad, the late Eric Mercy, had a lot to do with that event."
Amber hopes to compete in more events in the coming year. But right now she's focused on finishing high school and ensuring that Palm Beach Currumbin High School's chicks surfing team remains the best in Queensland!
(Story 1/12/2001 end)