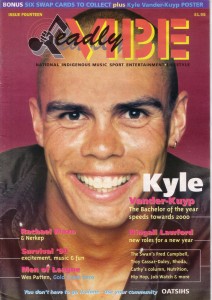 He can run, hurdle, represent Australia in international athletics as well as achieve world class times. And Cleo readers say he's Australia's biggest spunk as well. He is Kyle Vander-Kuyp Most Eligible Bachelor for 1998.
He's such a male role model, especially for us fellas who, well, don't play football all that well. He's cool, stylish and a world class achiever. By the way, he graces our March cover, 100,000 Cleo readers are not wrong.
This month we focus on the music of Survival, an annual music festival held in Sydney. Survival is a very well established event on the Indigenous and Australian music scene. This year was a bit different to other years with a greater focus on young bands, rather than the more established acts.
We caught up with the Broome bomb-shell NINGALI – who talks about a possible new film with Ted Egan. We also caught up with the beautiful Rachael Maza about her multi talents – a band and a film and much, much more.
Survival, like all the music festivals with an Aboriginal flair around Australia was a wonderful concert and event.
No matter what, we must fight to keep festivals like Survival. If there are cultural festivals going on around where you live – why not call and volunteer to help. It's a whole lot more fun than complaining that things are not done right.
It was so wonderful seeing the huge range of people coming together at Survival; Aboriginal, non-Aboriginal, Asian, all with a strong focus on Aboriginal reconciliation.
Also this month we get back into footy fever, it's that time of the year again.
Most AFL teams are already in their pre-season matches. This year Sydney Swans must take the prize for the greatest number of Aboriginal people playing for first grade, with five very deadly fellas. WOW! That really says something about black magic on the footy field. And the newest recruit for the Swans, Fred Campbell, talks with our sports editor about his new team and living in the city.
It's all happening in Deadly Vibe,
Happy Reading,
Gavin Jones
Dear Deadly Vibes,
Hi my name is Jamie Bellwood, I'm employed from the Daruk Aboriginal Medical Service Co-Op Mt Druitt Village as the Aboriginal Social Welfare Worker and I'm currently working from Hawkesbury radio 89.7 FM (Aborigines in Focus). With the Deadly Sounds Broadcast from Hawkesbury Radio every Monday night from 6.00pm to 7.00pm.
Personally, I would like to if possible nominate the station for some kind of an award for what they do for the Aborigines that do reside out here within the Outer Western region of Sydney. As a Koori I find all the station staff to be very much supportive, more so than any other Community Radio Station in which I have worked as a volunteer. (2SER FM 107.3, SWR FM 100.3, WOW FM 88.3).
I do thank you for your time; I do hope to hear from you within the near future.
Best wishes,
Jamie Bellwood
Dear Jamie,
Thank you for your letter and thank you for playing Deadly Sounds on your radio station. Congratulations on everything you have achieved with your station and on getting Aboriginal music and issues on the air.
Each year we host the Deadly Sounds Aboriginal and Torres Strait Islander Music Awards. In the awards we have a category specifically for Aboriginal broadcasting. These awards are in October each year. Keep an eye out for the nomination form in up and coming issues of Deadly Vibe.
We'll also be sending some indigenous music for you to play on your show.
Keep listening to Deadly Sounds and reading Deadly Vibe, and again thank you for your letter.
Gavin