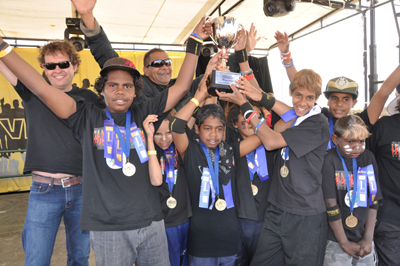 More than 2000 students from across Western Australia descended on Kalgoorlie this week for its third consecutive Vibe Alive Festival.
Young people from as far afield as Perth, Esperance, Merriden and Laverton, joined hundreds of local students at the Vibe Alive Festival which celebrates Aboriginal and Torres Strait Islander culture.
Held over two days, from Wednesday, August 25 to Thursday, August 26, Vibe Alive turned
Kalgoorlie's Oasis Playing Fields into a festival of colour, creativity and competition, as teams of eight to 12 competed in categories ranging from singing and dancing to painting and Indigenous games.
Vibe Alive Executive Producer Gavin Jones described the Kalgoorlie festival as the best yet.
"This is the third time we've visited Kalgoorlie and the excitement around the festival just gets stronger every year," Gavin says.
"Thanks to the support and enthusiasm of the local Kalgoorlie community, teachers and, of course, the students, I can pronounce Kalgoorlie Vibe Alive a huge success."
The Vibe Alive festival is part of a national tour of the two-day Vibe Alive Festival for young Australians of all backgrounds.
Students took the opportunity to compete in traditional Indigenous games and also explore future career options, with representatives from the Federal Department of Education, Employment and Workplace Relations joining professionals from the legal, sport and education industries to share their experiences and knowledge with students.
The many and varied talents of the young people of Kalgoorlie were on display throughout the two-day competition, with judges and festival organisers amazed by participants' abilities. A special community concert on Wednesday evening was attended by thousands of members of the local community.
The concert also featured performances by special guests Naomi Wenitong and So You Think You Can Dance? star Courtney Walter, who were also on hand throughout the festival to hang out with students, offer advice and encouragement, and undertake judging duties.
Overall winners of Kalgoorlie Vibe Alive were the Leaderz from East Kalgoorlie Primary School who also took out the Mids overall age group. Winners of the Junior School age group were Team Tiny from Kalgoorlie Primary, while the Leonora Legends from Leonora District High won the High School age category.
Vibe Alive is funded by the Australian Government's Community Festivals for Education Engagement program, designed to encourage school attendance, retention and healthy lifestyles for all young Australians, in particular, Aboriginal and Torres Strait Islander students.
The 2010 Vibe Alive Festival Program has visited Moree, Townsville, Port Augusta and Kalgoorlie and will hold an event in Bendigo, VIC, on 15-16 September. For more information about Vibe Alive, head to www.vibealive.com.au
For all media enquiries, including image requests or interview opportunities, please contact
Maryann Weston at Vibe Australia on (02) 48 228230, email [email protected] or Mayrah Sonter on 0412 551 494, email [email protected]