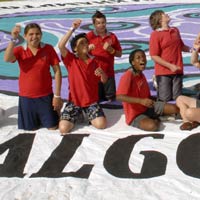 Get ready Kalgoorlie! Excitement is already building for the fourth Vibe Alive festival on 17 and 18 August at the Oasis playing Fields, Johnson St, Somerville, Kalgoorlie.
The two-day youth festival will challenge and inspire students of Kalgoorlie and greater Western Australia as they form teams to compete in Indigenous games and take part in a jam-packed festival full of fun.
As well as Indigenous games, students will have the chance to take part in dancing and singing competitions, numeracy and literacy activities, careers and health expos, art workshops and goal-setting activities to determine the overall Vibe Alive Kalgoorlie, WA, winner.
Last year more than 2000 students from across Western Australia descended on Kalgoorlie for the festival, with young people from as far afield as Perth, Esperance, Merriden and Laverton, joined hundreds of local students.
Executive producer Gavin Jones says Vibe Alive Kalgoorlie promises to be a huge event.
"This will be the fourth year that we've been to Kalgoorlie and we've always received an enthusiastic and warm welcome in WA," he said.
"The festival is a not to be missed event on the Kalgoorlie calendar and offers something for everyone. It's also amazing to see where schools will travel from for the festival as some travel up to three hours to attend."
It's not too late to join in the fun! Registrations are still open via the website at www.vibealive.com.au or by calling the free-call line 1800 623 430.
Vibe Alive is also looking for Volunteers to be part of the event. If you can help out please contact [email protected]
Vibe Alive is funded by the Australian Government's Community Festivals for Education Engagement program, designed to encourage school attendance, retention and healthy lifestyles for all young Australians, in particular, Aboriginal and Torres Strait Islander students.
Vibe Alive's principal sponsor, the Department of Education, Employment and Workplace Relations, is also offering to assist schools with their travel and accommodation costs. Information about travel and accommodation assistance can be found at: www.deewr.gov.au/Indigenous/Schooling/Programs/Pages/CommunityFestivals.aspx
Contact David Cole 02-4822 8230 or [email protected] for all media requests.