Over the recent years we've seen an exponential growth of quality Aboriginal television series and movies that have made their way out of the niche market and catapulted into mainstream media to be celebrated by the Indigenous and non-Indigenous alike. This is a testament to the talent of our people and the shows they produce, one being 'The Gods of Wheat Street'.
A six-part series airing on 12 April on ABC1, 'The Gods of Wheat Street' follows "the trials and tribulations of Odin Freeburn and his family as they rise above obstacles that would bring mere mortals to their knees – and get on with the important matters of love, family and football".
The show's creator and writer, best known for writing 'Redfern Now', Jon Bell describes the series premise as a "sprawling, brawling modern Aboriginal family just trying to live life". He says that it's relatable to most Australian families and encapsulates everyday life.
"It's got a lot of things in there: romance, drama, comedy, action. There's a lot of trouble but there's a lot of heart. It's pretty much the way we do live," he says.
Jon is hoping that the series, which began as a short story he'd written, is received well by all, and his message and passion is translated onto the screen in a way that viewers can empathise with.
"I'm hoping…I've got my fingers crossed that it does well. You never know if something that has been in your head is going to carry across and find a place in somebody else's heart but you can only hope," he says.
Jon's critically appraised all-Aboriginal work 'Redfern Now' has just been nominated for a Silver Logie and he sees this as evidence that Aboriginal entertainment is starting to gain traction with mainstream Australian media.
"I don't know if we're just starting to hit a Golden Age or we're in the Golden Age, or what, but it certainly feels like there is a bit of a movement happening. As long as we can sustain it and keep young people coming through," he says.
"I think films like 'Samson' and 'Delilah', 'The Sapphires', 'Bran Nue Dae' and those sorts of films doing well overseas, and then doing well in Australia, has really helped translate a lot of that stuff to TV.
"'Redfern Now' sort of came straight off the back and we're trying to come off the back of 'Redfern Now' with 'The Gods of Wheat Street' – each project kind of builds on the last."
The show employs an all-star ensemble consisting of established and up and coming Aboriginal talent like Kelton Pell, Ursula Yovich, Lisa Flanagan, Bruce Carter, Shari Sebbens, Mark Coles Smith, Rarriwuy Hick, Miah Madden and many more.
"Sometimes you see people's auditions and they are that person straight away. Sometimes you see a spark or hint of something new they're bringing new to it or sometimes they're completely different and you think 'I didn't think of that but that's perfect'," explains Jon.
"Everybody we got more than fulfilled what we wanted."
One such fulfilling actor is Lisa Flanagan who plays Libby Lavelle – the younger sister of Odin's wife and is in love with him, and cares for his children, says Jon's writing is "amazing" and admits she had to be a part of the project.
"We were just shooting the first series of 'Redfern Now' and the script was getting passed around on set and I saw it, and was like 'Oh my god, I want to be a part of this show'," she says. "So I got on to my agent straight away and said: 'There's a new TV series The Gods of Wheat Street; I want a part of it', and I auditioned and that was it."
The character of Libby acts as a sort of adoptive mother to Odin's children and will do anything for them. Lisa says this resembles many Aboriginal women, even herself.
"She's a strong woman that's carrying a lot on her plate all the time and is always there to help everybody else but is never really there to help herself and ask herself if she's alright," she says.
"It happens. Us women go crazy and do everything we have to do; Libby's a bit like that, she'll do anything she can to keep her family happy and together."
Having been in the industry for over 10 years, Lisa has seen the struggles that Aboriginal actors face when pursuing roles. Many actors have been, and still are, cast purely on the fact they're Aboriginal despite their talents, but recent all-Aboriginal series are changing that by showing all of Australia that our talent is not to be underestimated or categorised.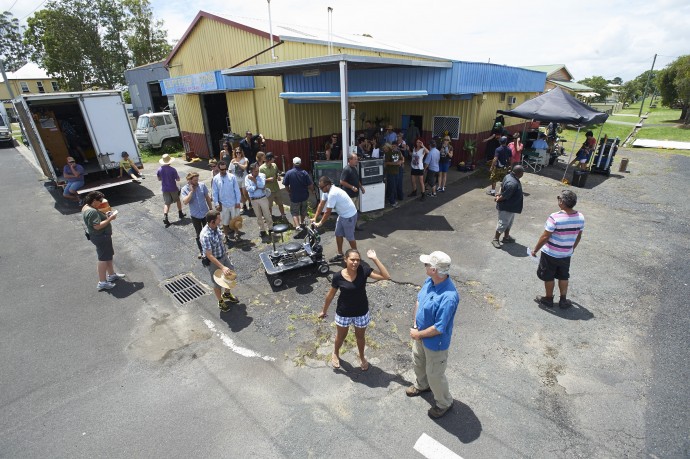 "It's been a long struggle. There have been times where I've rang my agent and just go 'I can't do this anymore. I can't push, push, and push to get somewhere I know I'm not going to be able…we're not going to be able to be'," says Lisa.
"We don't want to play those poor, sorry roles anymore because stuff like that just gets too depressing. We want to be able to move on in roles and help young fellas come up and do things that they want to do.
"It's been such a hard struggle to get different work and then Redfern [Now] came out and all the white actors wanted to jump on Redfern, they all wanted to be a part of it. It's a blessing for us and we feel like we've made it now."