Australia's first national Aboriginal and Torres Strait Islander music program, Deadly Sounds has celebrated its 1000 episode this Sunday when a two-hour flashback special is broadcast across Australia.
For two decades never missing a week, Deadly Sounds has provided the best of Indigenous music, culture, health and community news to an ever growing number of listeners and radio stations.
"Any show that has lasted that distance is a remarkable achievement and I feel very privileged to be part of a show that has lasted so long," says Managing Director of the Deadly Vibe Group, Gavin Jones.
"I don't think either myself or the team really realised what a big thing it was until it snuck up on us, and now that we've all realised that Deadly Sounds has been around for so long, it is something the whole team is taking immense pride in."
From its very beginning in the early 90's when it was recorded onto cassettes, some of Australia's most prolific artists like the late Dr Yunupingu and Uncle Jimmy Little; and Gurrumul, Christine Anu, Jessica Mauboy and Archie Roach, have featured on the program.
The voices of sporting legends like Adam Goodes, Nicky Winmar, Kyle Vander-Kuyp, Cathy Freeman, Michael O'Loughlin and Daniel Geale have also been heard over the airways, standing strong in culture, health and identity.
The arts have also featured strongly. Luke Carroll, Aaron Pederson, Leah Purcell, Deborah Mailman, Jack Charles, Aaron Fa'aoso and Tessa Rose have given listeners an unscripted look into their lives.
But without a witty, intelligent and gifted presenter, listeners would not have heard the best from the immensely talented people on the show. Journalist, actor and author, Rhoda Roberts, has been with the show since episode one.
"She's the backbone of the whole show. Her voice, knowledge and ability to interview and tie the interviews in with the current affairs, music, politics and culture so elegantly and effortlessly, has ensured the longevity of the show," says Gavin.
For 20 years Rhoda Roberts has been anchoring Deadly Sounds, an overwhelmingly positive voice each week for the community.
"It's an incredible undertaking, the fact that Vibe has been able to continue this for 20 years is something extraordinary," says Rhoda Roberts.
"I love doing it because you hear the triumphs that occur in the community but it also keeps you aware of what's relevant within community. It has empowered me with knowledge, how to talk to people and make them feel at ease."
Out of all the show's positive aspects, whether it be instilling a sense of belonging for our mob or being an easily accessible medium for gaining knowledge on current affairs and health, one thing the show has done best is provide a platform for up-and-coming musicians.
"When Deadly Sounds started there wasn't really a great platform for our Aboriginal and Torres Strait Islander musicians and there weren't many career prospects, our artists mainly sang for community," says Deadly Sounds Producer, Vicki de Vries.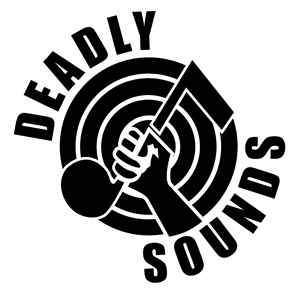 "As the years have progressed Indigenous artists are beginning to see that they can break into the mainstream and make a living out of it, and I like to think that Deadly Sounds has helped provide a platform for them to grow as artists and gain recognition from wider Australia.
"It's very exciting for the show to reach 1000 episodes and that we've had so much support along the way from community. It's great, just such a wonderful feeling."
With many momentous occasions over the past 20 years, Rhoda recalls one in particular that left her wondering whether Deadly Sounds had played a part in a defining moment of this particular person's career – the late Uncle Jimmy Little.
"This is a man that we had all grown up with and one of our most prestigious artists and here he was in a little cardigan with hardly any money," recalls Rhoda.
"He came in to give us a few albums and to do an interview – six months later somebody heard a song he sang and next minute there was 'Messenger', the album and it revitalised Uncle's career.
"I often wonder had we not done that interview and played that music whether his career would be revitalised – it probably would've happened because he was an extraordinary artist – but I don't know, I sometimes think it might have been a stepping stone to get him back into the music industry."