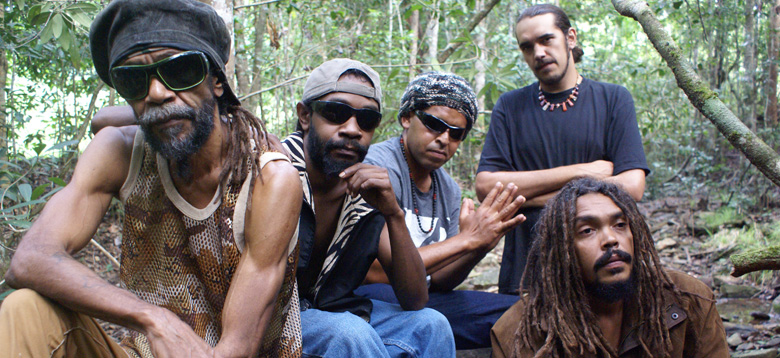 For Willie Brim, the 'father figure' in reggae group Zennith Boyz, funny coincidences are a sign that he's on the right path.
After two band members recently decided to head off for new adventures, the Zennith Boyz were on the lookout for their replacements. They were introduced to a bassist, Kapua, who happened to have the same birthday as their former bass player, and also Willie's granddaughter. For Willie this was a special connection and confirmation that it was meant to be. It also helped that Zennith were blown away by Kapua's talent and knowledge of the band's repertoire.
The Zennith Boyz are a Reggae/Hip Hop band from Kuranda in North Queensland, Bulwai country, who have built a steady following with their unique style and dynamic live performances in many Far North Queensland venues and festivals around Australia. They are "known for shaking festivals, no matter where they go," says Willie. Check out any of their live music clips and you will see that he speaks the truth.
The band is passionate about creating positive vibes through their music but also through their culture. The band consists of Willie Brim on guitar, his two sons, Aden Brim on vocals/percussion and Astro Brim also on vocals and guitar, Aron Riley on drums and Kapua Gutcheon Jnr on bass. Formed in 2005, the band have released an EP I Like It (2007) and an album Nothin to Lose (2010) which were both successful releases with the latter no doubt helping them gain the title of 'Cairns' Number One Band' and several Deadly Award nominations.
The music of Zennith has a distinct North Queensland sound, which Willie is proud to have had a part in creating, with his original group, the Mantaka band. Mantaka has been described as the forefathers of the reggae roots movement in Australia. "Reggae music was started up in Australia by Mantaka," says Willie. "No-one else at that time was playing that style. At the time, in the early 80's, there were only about five Aboriginal bands across the country competing with the white fellas – we were the ice-breakers". If you aren't sure what the North Queensland sound is exactly… "All you have to do is listen to the music of other parts of the country and you'll hear the difference, I promise you" says Willie. "The Territory has a sound, the Gulf has a sound, if you listen to a band like Black Image, that's the distinct sound of the Gulf, with all the cattle."
With Willie's guidance the band have a strong connection to their country, and are also culturally active, upholding traditions and passing on knowledge. "That's the plan we have for Zennith up in our community," says Willie, "upholding our law in our country is another way that we support our community. It's an unwritten duty that we continue to do, as a family and as Aboriginal people. "We like to use our country and our sacred sites as a refueling station, to use a modern term. We go out there and feel enriched and then we feel we are ready to take on the world again." This is something that, as a group, Zennith is very passionate about and is actively working to promote not only in their own community but also overseas in Europe. "My biggest love is the culture and the music," says Willie, "they are the only two worlds that I foresee my family becoming strong in and making a life from, our culture and simply the talent that we have been provided with by Buluru (our creator). Our work is really based on the spirituality and beliefs of Buluru."
Zennith cover a wide range of subjects in their music. "They can brand us as a political band but we're just singing as we see things and feel things. We don't deem ourselves as political, there's a lot of love songs, and we sing about our elders, we sing about our children, and sometimes we'll throw in (something about) the system, because that's another thing that affects our lives, but we are simply describing our lives," says Willie.
You can't talk about reggae music and not mention the name Marley somewhere in the conversation. Not surprisingly the Zennith Boyz have been dubbed the Australian version of the Marley's. They have met several of the Marley boys, and have opened for both Julian and Damien Marley. "Our band has been 'inducted in to the house of Marley'. That's a special honour," says Willie. If listeners were to get only one message from their music? "I would like it to be peace between all people and love between all people, because those two run hand in hand, and that's how our ancestors were," says Willie. "All living as one, and that's the kind of message we try to get out." For more info on upcoming shows go to www.zennithboyz.com