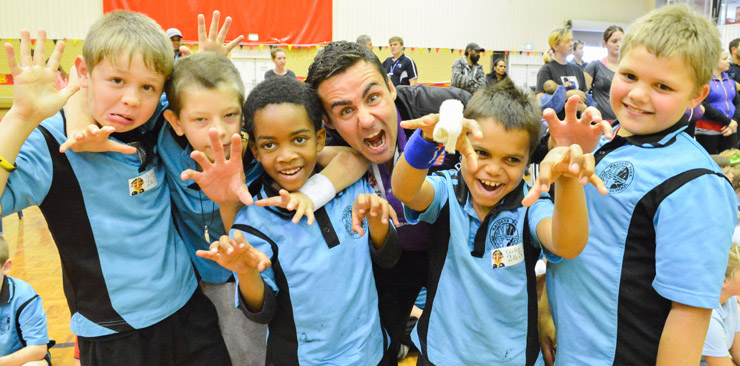 Hundreds of enthusiastic students enjoyed a day full of activities and learning how to maintain a healthy lifestyle at Bunbury's National Indigenous 3on3® Basketball and Hip Hop Challenge on Friday 24 May.
Students from Bunbury and across the region participated in Bunbury's first 3on3 at the South West Sports Centre for a day of 3on3 basketball, rapping and break dancing lessons, art workshops, a dance competition and a health expo.
For event producer Mayrah Sonter the day was fueled by the generous support and effort from all involved. "You could really feel the community spirit. We had so many committee members and volunteers standing alongside us to help with the event. It's a credit to the local community. It was a wonderful venue," she says. "The entire event was overwhelmingly positive. Everything went really smoothly." Special guest role model for the day was soccer star of Perth Glory, Travis Dodd. "Travis Dodd was a superstar. He'd just had a knee reconstruction but he came off his crutches on Tuesday and was playing basketball with the kids on Friday. He was a legend," Mayrah says.
The young people hit it off with all of the Aboriginal and Torres Strait Islander role models on the day. "Dancer AJ Philips travelled all the way from Broome to be there, she was great. The kids loved Darren Compton, they'd seen him on Move it Mob Style® before, he really pumped them up. Rapper MC Bryte and DJ Jimblah did a wonderful job. Sports role model Michelle Woosnam promoted an active and healthy lifestyle," she says. Aunty Gloria Dann of the Wardandi people Welcomed us to Country and sang a song in language. "Usually they would just say the Welcome to Country but Aunty Gloria Dann actually sang another song in language and it was unbelievable," Mayrah says. "She was accompanied by Troy Bennell, our local artist; he did some great work with the kids."
Mayor of Bunbury, David Smith attended the Opening Ceremony along with Federal Member for Forrest Nola Marino MP. An interactive health expo was a highlight at Bunbury 3on3 with the South West Aboriginal Medical service engaging in healthy eating activities with students. A special appearance was also made by a local health worker dressed as a giant piece of celery and the local police.
Mayrah thanked the local sponsors, which included Department for Communities, Bunbury Port Authority, Department of Sport and Recreation, Bakers Delight, Coles, Woolworths South Bunbury and Woolworths Bunbury Plaza. "We would like to send a big shout out to local committee for all their support as well as to all of the volunteers, students, teachers and health representatives who participated," she says.
The Vibe 3on3® would not be possible without its Principal Sponsor the Department of Health and Ageing as well as our sponsors – the Department of Regional Australia, Local Government, Arts and Sport, Headspace and Australian Government – Closing the Gap and our supporters the Jimmy Little Foundation, Koori Mail, Deadly Sounds, Deadly Vibe and vibe.com.au. For news, stories and information on Closing the Gap, visit indigenous.gov.au. Cap: Image 306; With Vibe 3on3 role model Travis Dodd: Maidens Park Primary School students from left to right: Johnathon Akers, Bryson Fitch, Bahle Godzani, Kevin Dickie and Waylon Hill.
Check out some action from the day!