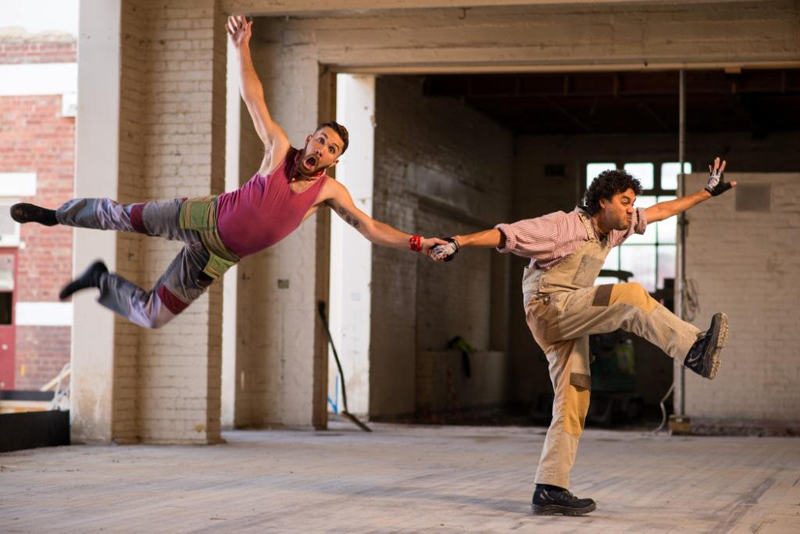 Following their Melbourne Big Top season, Circus Oz is travelling to remote Arnhem Land communities for free community performances and with them will be Murri man Mark Sheppard.
Mark joined Circus Oz in March 2013 when he made the move from Brisbane to Victoria. He auditioned for a position in one of Australia's most popular contemporary circuses, after attending the Circus Oz BLAKflip program, and was recruited along with Kamilaroi man Dale Woodbridge.
Through the program Mark was able to have an opportunity that he would not have otherwise had, and he's glad to be a part of something so inspiring for Aboriginal kids. "I think it's beneficial on both sides, for the performers as well as the community, you know. To see the young kids as well as the community inspired by the possibilities. If they dream big enough and want it bad enough, then it can be available to them," he says.
Coming from the small Queensland town of Mareeba, Mark recalls his first theatre experience and how it inspired him to think about the kind of opportunities he could have outside of his community. "One of my biggest, major influences was going and seeing Bran Nue Dae on stage in Cairns and that was the big moment for me – when I thought 'that's what I want to do'." Circus Oz has made a commitment to tour large scale circus works to remote communities, with a long-term goal to engage with Aboriginal youth to establish a community circus program. Community circus programs aim to complement education initiatives with a focus on healthy living, practical skills and physical activities. "We're taking as much equipment as possible, but we're not necessarily performing in a tent venue," Mark explains. "It's going to be all open air, outdoors and 'indigi-fying' the whole experience of performance for production value."
For Mark it's the diversity of the performers that brings everyone together and the creativity of performing. "Once you kind of put it together, you have a show and I love that." Circus Oz Goes Bush will be visiting Gunbalanya, Maningrida, Ramingining, Gaupuwiyak, Yirrkala and Gulkula at the Garma festival, from 29 July through to 9 August, with a circus workshop on Saturday, 10 August at the Garma Festival. For more information on Circus Oz head to www.circusoz.com