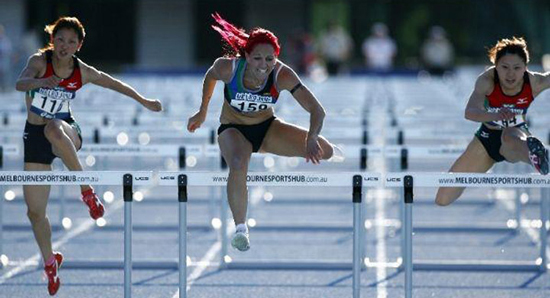 Elite athlete Shannon McCann is back from the Australian national championships and justifiably proud to be the 100m hurdle national champion and with a Personal Best to top it off. While her achievements might seem easy on paper, it's the sheer hard work and commitment that has got Shannon through a grueling schedule which includes not only athletics but university studies and volunteering too.
This Perth based girl whose mob are from Darnley Island in the Torres Straits, and who was raised in North Queensland before moving to WA, does not shy away from anything least of all the hurdles she so gracefully flies over.
"It's the fifth time I've competed at the nationals and the second gold medal I've come away with but this year I beat the State record by 0.01 of a second which has stood since 1994," she says.
At 24 years of age, Shannon's best is still in front of her.
Starting out as a 400m hurdler, she switched to the 100m when she changed her coach and knew she was capable of more speed. But despite her significant achievements, she doesn't consider herself particularly talented. Rather, she says it comes down to hard work and commitment.
"I've given up so much to get to this level. I'm studying at university and working part-time, as well as training and competing," she says. "I want to be the best version of myself that I can be. I grew up in Innisfail in Queensland and we come from a poor background so I have that drive."
She has been involved in athletics since she was five years old and took up running because her sister did. "I wanted to be like her and started out as a distance runner and didn't shine at that; but what I did discover is that I had a talent to go harder and faster. Hurdling suited my pace more. I'm a huge believer in learning ability. I have speed and technique – not so much talent, but I work very hard," she says.
To become a national champion you have to be driven and Shannon admits she is that. Daily training schedules come naturally to her but it hasn't always been smooth sailing in her athletics career.
"Deep down inside it's natural for me to be driven and there have been times when I've doubted myself but my coach, family and fans have been so supportive that when I don't believe in myself they reassure me that I can do it," Shannon says.
"I want to take my athletic career as far as possible and I think I have another 10 years left to do that. I'm hoping to compete in the World University Games in Russia in July and represent Australia, as well as compete in the 2014 Commonwealth Games in Glasgow.
"Of course my dream is to represent Australia at the next Olympics and it's a definite possibility. I'm not too far off the qualifier and currently ranked 10th. I need to get to 2nd and better my time by .3 of a second.
"I've done a PB (Personal Best) this season and I'm still getting faster. I'm not training in the gym yet, just running off speed. In Australia the 100m hurdles are not that strong yet Sally Pearson is the Olympic Champion. She makes me realise that anything is possible and we, in Australia, can be the best in the world."
Shannon is not just a role model to her fans but to all young Aboriginal and Torres Strait Islander people. She takes her role seriously. "It's becoming clear to me that I'm a role model for Indigenous athletes and it's good to show them that we won't be pigeon-holed and that like other things we do well, we can hurdle too," she says.
When Shannon isn't training and competing, she's attending Murdoch University and studying forensic science. Juggling time is second nature to achieve her dreams, one of which is to work for the Coroner.
"I want to eventually get into that side of forensics or possibly work for CSIRO in medical research."
If you want to know more about Shannon you can head to www.shannonmccann100mh.com