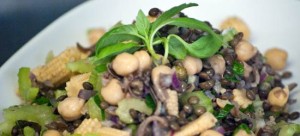 This salad makes a very healthy all-round meal with heaps of flavour and crunch. It will also last for days in the fridge, so make a batch at the beginning of the week and you'll have lunch for several days. You can also have it with tinned tuna for a high-protein meal. Lentils, wild rice and chick peas are all high in protein and complex carbohydrates and fibre, while celery, parsley and baby corn are great for helping to balance the body's acid base.
Serves 4
INGREDIENTS
 100g Cambrian Wild Rice
 2 cups dried green or puy lentils
(or 2 cans of ready-to-use lentils)
 750ml water
 2 celery stalks, chopped
 1 can of baby corn, chopped
 1 small jar of capers in brine
 1 can of chick peas
 handful of parsley, chopped
 1 large red onion, finely chopped
 juice of 1 lemon
 2 tablespoons olive oil
 salt and pepper
METHOD
1. Put rice and dried lentils into a saucepan and cover with the water (if using canned lentils, cook rice only with less water; check the packet directions). Bring to the boil, then reduce heat. Simmer until lentils are just tender. Drain (reserve the liquid) and set aside to cool.
2. When rice-lentil mixture has cooled, add the celery, baby corn, capers, chick peas, parsley and onion.
3. Make a dressing by mixing the lemon juice and olive oil and adding salt and pepper to taste. Pour the dressing over the other ingredients and toss the whole mixture together. If the mixture is dry, pour in a little of the reserved cooking liquid from the lentils.