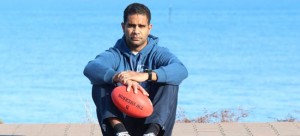 Throughout his 14 year AFL career, Michael O'Loughlin was a master of preparation. From his training to his diet, analysing an opposition's strengths and weaknesses and managing injuries, there was no stone left unturned.
So when Michael recently travelled to South Australia to trace his family history as part of the SBS series Who Do You Think You Are? not knowing what he would find out, or where he would end up on any given day, had the champion footballer feeling every bit the fish out of water.
"You have to put yourself in my shoes," says Michael, talking about the life changing experience, "I'd be told to be downstairs at the hotel at 9am and that was it, I'd be getting frustrated because no one would tell me anything, and then I'd get on the plane and fly or drive to wherever the story unfolded, and I'd meet someone and they'd tell me a story and most of the time I was just lost for words."
The episode traces Michael's startling family history, on both his mother's and father's sides, leading to some truly emotional and historically significant revelations – including the fact that the elder Aboriginal man and woman shown on the bottom corner of the $50 note are none other than Michaels own great grandparents.
"When they asked me to do the show at first I said no, I had a thousand things going on within footy, but then I thought I better get onto these people because this chance might not come around again, and I'm so glad I got the opportunity," says Michael.
Another big motivation to dig into the past was his three children and the fact that having moved away from his hometown as a teenager to pursue his footy career – there was much Michael had missed out on.
"I knew bits and pieces of our history, growing up as a kid my Aunties and Uncles, Mum and Dad, they'd try to sit down and tell me things, but as a kid I was just obsessed with footy, all I wanted to do was go out the back and kick the ball, so to go into that sort of depth and detail of my background was just outstanding."
Michael was particularly touched by the life of his great great great grandmother, who among other discoveries in the episode is found to have been the very first Aboriginal person in the state to be legally married to a European, and the first to legally own land under the colonial system, and his great grandfather on his father's side, a tribal leader and custodian of his people's culture and traditions who worked tirelessly to document and preserve them before his death.
"They were standout leaders in their communities," says Michael, "they were just unbelievable people with some of the experiences they went through and the achievements they had, for me to learn that, I felt really proud and humbled, what I've achieved in footy and after footy, it really sort of fails in comparison, and it just makes you think a lot more about where it all began.