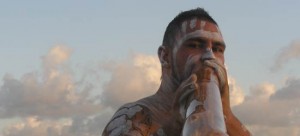 Internationally acclaimed cultural spokesperson, didgeridoo player and Aboriginal artist, Jeremy Donovan is passionate about ending the disparity between Indigenous and non-Indigenous Australians. This has led him to become a spokesperson for GenerationOne.
Jeremy, from the Kuku Yalanji people of Far North Queensland and the Gumbaynngirr people of the mid North Coast of NSW, is one of Australia's most celebrated didgeridoo players and these skills along with his cultural knowledge have earned him the reputation as a master storyteller and performer.
He says joining GenerationOne is really just an alignment with what he has been talking about for the last decade all over the world.
"For the last 10 years, whether playing didgeridoo or speaking at conferences, I've worked to break down racial barriers, overturn stereotypes and teach people about what Aboriginal culture is and can be. I always speak about positive change in perceptions in Australia – so the GenerationOne message about ending disparity is aligned to what
I have been speaking about anyway."
He firmly believes that now is the right time to come together and act on closing the gap.
"We have a generation now who are supportive of change," he says.
"I believe that empowering Indigenous people through education, employment and mentoring is crucial to ending disadvantage. There are many Australians like me who are working towards positive change across the country."
Jeremy had some serious encounters with the law when he was growing up.  He had people telling him he was never going to amount to anything.  And for a short time he was lost.
"I was an angry teenage boy, I was given a recorder but I needed drums. The teacher told me I had no musical ability, yet I have written and produced music for 15 albums since I left school," he says.
"I now say to young people – sometimes other people can't see your vision, but you can create the world you want to live in. I tell young people in workshops about the inherited trauma we grow up with as young Aboriginal people. All of the impacts that can hold us back from realising a dream. Dreams are for everyone. The big step is to dare to dream. Dreams are infectious. When you meet someone who is passionate about their dreams then you start believing it, too."
He says as a young man he grew up completely removed from a traditional environment and Aboriginal culture was not even discussed.
"I had a fairly typical Anglo upbringing if you want to label it anything, and one of the biggest battles I faced as a young person was who am I?
"As I started getting into trouble in my early teens I came into contact with Aboriginal Liaison Officers who helped me track my identity and where I'd come from.
"Meeting my traditional families in Northern Queensland became a powerful notion for change for me. I don't want my kids to learn about Aboriginal culture from some book that an anthropologist has written – I want to teach them myself."
These days Elders from across Australia and from Native American tribes request Jeremy's time to help engage their young people and share his traditional knowledge. He travels to North America a few times each year.
"During my tours of the world I have spent a lot of time with the Native American Indians in Arizona. I really love that. It is a deep healing space when you get the opportunity to sit with another native person from another land and share stories and find similarities in the way of life that existed a few hundred years ago and some of the battles and successes," he says.
Jeremy's message to all Australians is that we can all get involved in the process of change.
"Anyone, no matter what colour you are – whether you're white, black, brown, or brindle – if your identity is built on sadness and struggle then it is always going to be difficult to hold your head up," he says.
"Empowering ourselves with education and employment is an important thing. Today we are allowed to be educated and employed and there are many opportunities to overcome the hurdles.
"If we begin to dream and have positive thought processes the disparity will disappear. One of my most important roles is to bridge the divide, and when we can sing together and walk together – that is when we will really be able to see each other."