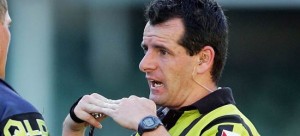 Gavin Badger made his NRL debut as a referee during a Brisbane vs South Sydney game at Suncorp Stadium in round 17 of 2004. Since then he has refereed over 140 NRL games, including the 2004 Premier League Grand Final and the 2009 City v Country match, as well as the very first Indigenous vs NRL All Stars game.
Gavin grew up around the Redfern-Waterloo area of inner Sydney and was sports mad from a very early age.
"I played every sport I could get my hands on as a kid. I have played rugby league since I was three years old, as well as soccer and rugby union," he says.
He fell into refereeing after he stopped playing rugby league.
"I never wanted to be a referee, I just fell into it. I had stopped playing and I bumped into an old coach who asked me to have a go – that's how I got into it. But once I did it a few times, I started to enjoy it and people started to tell me I had ability for it, so then I wanted to go as far as I could with it."
He says the hardest thing about being an NRL referee is the training and the criticism.
"The training is tough. We train hard because we need high fitness levels. Also, sometimes your family has to put up with a lot of crap. I am used to it but they're not. I block the external stuff out and I have a thick skin. I copped it a lot worse when I was younger," he says.
While the referees often cop the brunt of fan frustration, most supporters don't realise how much dedication and work goes into the profession, "I do a lot of running. I work on recovery. We referees are as fit as the players anaerobically, and we train with them in the pre-season, but when it comes to strength we have nothing on them," says Gavin, who believes that despite the challenges a career as a referee in the NRL has its own rewards.
"I am a NRL fan before I am a referee, so I run around with the best players in the world, I get the best view of the game and I get paid for it. I get to travel with them too. I have been to places I never would have gone otherwise – like travelling to Papua New Guinea (PNG) a few years ago."
He says a good referee has to love the game, be physically fit and mentally strong.
"You have to make decisions on the run and be strong enough to back your decisions when you have 26 blokes telling you that you have got it wrong," he says.
And for those wanting to be a referee he says enjoyment is the key.
"You have to enjoy it – it would be tough otherwise, especially on those cold winter days when you might be thinking, 'why am I doing this?' It is a very long road from local park footy to NRL but I still enjoy it as much as I did when I started."
While being the only Indigenous referee in the NRL is a huge honour for 'Badge', he says he has a few more goals he'd like to achieve yet.
"It is a really big thing being the only Indigenous NRL referee, we have a couple of guys on the way up and hopefully we will have a few more soon. I was lucky enough to referee in one of the first Indigenous All Stars games and that was a great honour. I also refereed in the Prime Minister's 13 Vs PNG side up in PNG. We were there for a week and it was a great experience."