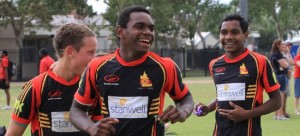 The name of the game for both the NRL and AFL at the moment, in their competition for fans, players and advertising dollars is 'expansion'. The AFL has been doing plenty of it in recent years, establishing new clubs on the Gold Coast and in Western Sydney. Now it's the NRL's turn, and in November this year, it will announce two new clubs that will join the competition by 2015.
One organisation throwing their hat in the ring to join the NRL is the Central Queensland Rugby League, who believe the large number of junior footballers in the region, plenty of whom are of Aboriginal and Torres Strait Islander descent, is one of several reasons to establish an NRL club on the Central Queensland Coast.
"We have around 14 000 junior rugby league players across the region," explains Walson Carlos from CQ NRL Bid, "and many of them are Indigenous. Rugby league is a very popular game for the young Indigenous people in Central Queensland, it's our game here, it's the heartland of rugby league, whereas if you went to Darwin a lot of the Indigenous kids would be playing AFL, here, all of them play rugby league."
NRL CEO David Gallop got a taste of that parochial passion for rugby league when he visited the Aboriginal community of Woorabinda, located west of Rockhampton, last year, where the CQ NRL Bid also set up a stall during a community employment expo.
"All the people out at Woorabinda want to see a local NRL club," says Walson. "Woorabinda has only had one player go on to play NRL, that's Reggie Creswell who played  for the North Queensland Cowboys, but with the amount of talent that's out there and the amount of players here, there should be more players coming through and playing NRL, and I know for a fact there's players here that have the potential to play NRL but it can be particularly hard for those players to go away from their support networks and make it in the NRL, particularly if they're recruited by a Sydney club."
Central Queensland has produced many of the State's great Aboriginal players over the years, including the likes of Matt Sing, Rhys Wesser, Sid Domic, PJ Marsh, Dale Shearer, Steve Renouf, Justin Loomans and Wendell Sailor, while current NRL stars Willie Tonga, Dane Nielsen, Maurice Blair, Jharal Yow Yeh, Scott Prince, Ben Barba, Josh Hoffman, Travis Waddell, Dane Gagai and Marmin Barba also hail from the region.
The thinking is that with an NRL club located right on the doorstep of local Aboriginal communities, the number of Indigenous players from the region breaking into the NRL can only increase. A local NRL club could also provide more opportunities for engagement with communities via health, education and sports based programs, while local kids also get to benefit from seeing their heroes playing at home, rather than for clubs thousands of miles away.
"What we're providing is an opportunity for kids to follow their dreams and stay at home and play at home, and then there's the bigger picture stuff that goes with it too, the positive role models that come out of it, to have those players that come through and they succeed and show other people that it can be done, that's a very positive thing," says Walson.
The organisation has also been active in communities and school across the region through their QR National Schools Program, QR Scholarship Program, and several development squads. Of the 12 footballing scholarships handed out this year, six went to Aboriginal players who received up to $5000 to assist in their education and rugby league development.
As part of the QR National Schools Program, representatives from the organisation such as former Indigenous player Justin Loomans visit schools to give talks, mentor students and hold rugby league clinics. In 2011, the Schools Program visited 66 primary schools and is striving to visit a total of 120 schools all up by the end of 2012.