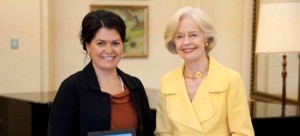 It was a deadly day out for eight of Australia's best and brightest Aboriginal and Torres Strait Islander student teachers last month.
Years of dedication and hard work were rewarded in the best possible way with her Excellency, The Governor-General, Ms Quentin Bryce AC CVO on hand to award eight university students the prestigious Governor General's Indigenous Student Teacher Scholarships in a ceremony at Government House in Canberra.
While this year's recipients come from a broad range of backgrounds and locations around Australia, they all share many of the same common qualities and beliefs. This group of brilliant university students share a passion for the teaching profession, a commitment to making a difference to the lives of young Australians and an amazing potential to become dynamic educators.
One of the recipients, Sharon Davis, a Bardi woman from Broome Western Australia, is looking forward to teaching on her own country.
"This scholarship gives me great pride and a self-confidence that will hold fast as I approach the end of my university education, and move towards life in a real classroom," she said.
Sharon is aiming to use this opportunity to gain her teaching degree, before chasing a Masters qualification in Indigenous Education and using her training and experiences in the classroom to help students and other staff.
"I think it would be a great job to help teachers to become more culturally aware in their classrooms, to help schools integrate Aboriginal and Torres Strait Islander cultures into the curriculum and to teach the value of our cultures," she explains.
Each winner can receive $25,000 per year, for up to four years, to help them obtain their teaching degree. The scholarship aims to assist student teachers to become role models for Aboriginal and Torres Strait Islander students, contribute to raising the educational expectations of Aboriginal and Torres Strait Islander students and to support community involvement and raising awareness of other educators.
There are currently 24 student teachers being supported by The Governor-General's Indigenous Student Teachers Scholarship.
For more information on the Governor General's Indigenous Student Teacher Scholarship please visit www.deewr.gov.au/GGISTS