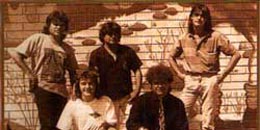 Twice ARIA nominated band Coloured Stone are hitting the road to support their 11th studio album "Beautiful World" produced by Niall Anderson.
Coloured Stone have graced the Stage at The Big Day Out & Woodford Folk Festival and recently performed at MCG along with Yung Warriors as a part of the annual Dreamtime Game in celebration of the Indigenous communities? contribution to the AFL performing to over 84,000 people with a national TV coverage of 800,000.
Joining Coloured Stone on the road across the country is the exciting Indigenous Hip Hop crew the "Yung Warriors" featuring Tjimba Possum Burns and will be preforming tracks from their forthcoming album "Standing Strong".
Tour Dates
26th August Step Inn, Fortitude valley Brisbane QLD
Coloured Stone & Yung Warriors with Impossible Odds
2nd Sept Fowlers Adelaide SA
Coloured Stone & Yung Warriors with Karnage & Darknis
3rd Sept Evelyn Melbourne VIC
Coloured Stone & Yung Warriors with Johnny Mac, Mr Morgz & Miss Hood
9th Sept Gap Hotel Alice Springs NT
Coloured Stone & Yung Warriors with Karnage & Darknis
16 Sept Tone Bar Sydney NSW
Coloured Stone & Yung Warriors with The Last Kinection