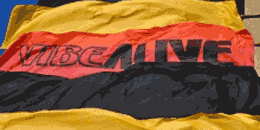 Dynamic role models are getting ready to ensure students from the Port Augusta region have a great time at the Vibe Alive Festival next month.
The Vibe Alive event will be held on 24-25 August at Central Oval, Augusta Terrace, Port Augusta, SA.
Vibe Alive is a fun, two day festival for young Australians of all backgrounds that celebrates Aboriginal and Torres Strait Islander cultures. Aside from the awesome fun on offer at the festival, there's all the latest information on how to stay healthy, careers in health and some great interactive activities that show students how to get fit and stay active.
With a special health focus, the Port Augusta Vibe Alive will have all the usual range of activities for young people, and more. This year, there will be a fun, physical workout with "Move It Mob Style". It's a fast paced, interactive hip hop workshop that aims to teach participants the latest dance moves, instil a love for physical activity, provide an opportunity to get active, and use energy positively.
Australian singer/songwriter Nathan Foley will be co-hosting the event, along with actor Luke Carroll. Nathan says Vibe Alive is all about getting active.
"It's about getting kids up and out of the house and away from the TV and video games," Nathan says.
"It is about movement and getting the blood pumping through sports and other activities. It's also a great way to meet new mates."
This year's festival showcases other major Indigenous talents including Hip Hop stars The Street Warriors and dancers Medika Thorpe and Steven Smith-Ince.
Stand-up comedian and artist Kevin Kropinyeri will host the Paint It Up activities, where students get the chance to display their artistic flair and learn about the art techniques that have been passed down through the generations.
Performer and choreographer Gail Mabo and Courtney Walter will host Little Vibe – a special program to give young people in early primary school the full festival experience.
Registrations are still open for the teams and can be entered via the website at www.vibealive.com.au or by calling the free-call line 1800 623 430. Due to the overwhelming demand the Little Vibe section is now closed.
Vibe Alive is also looking for Volunteers to be part of the event. Volunteers at Vibe Alive assist with registration, helping to run games and activities, catering and hospitality, handing out show bags and assisting the role models, celebrities and presenters to run Vibe Alive activities.
If you can help out please contact [email protected] or call 1800 623 430.
Vibe Alive is proudly supported by the Australian Government with the assistance of the Department of Health and Ageing through the Office of Aboriginal and Torres Strait Islander Health (OATSIH); and the Department of Education, Employment and Workplace Relations.
Contact David Cole on 02 4888 8230 or [email protected] for all media requests, including photographs of the Street Warriors or role models.
Vibe Australia produces the Deadly awards, Vibe Alive, Vibe 3on3, In Vibe, Deadly Vibe, Deadly Sounds and Deadly TV. For more information about products: www.vibe.com.au