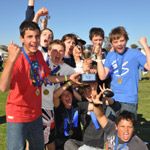 More than 1600 students from across South Australia descended on the city of Port Augusta this week, with young people from as far afield as Coober Pedy, Alice Springs and Booleroo joining hundreds of local students to take part in the Port Augusta Vibe Alive Festival.
Held over two days, from Wednesday, August 5 to Thursday, August 6, Vibe Alive turned Port Augusta Central Oval into a festival of colour, creativity and competition, as teams of eight to twelve competed in categories ranging from singing and dancing to painting and spelling.
The sold-out festival featured a special opening ceremony, featuring a Welcome to Country by local Elder Aunty Elsie and a speech from the South Australian Premier, Hon. Mike Rann MP. Vibe Alive Executive Producer Gavin Jones declared the South Australian festival "the greatest Vibe Alive event yet! Thanks to the support and enthusiasm of the local Port Augusta community, teachers and, of course, the students. Congratulations South Australia – you should all be proud!"
There was also the opportunity to explore future career options, with representatives from the Federal Department of Education, Employment and Workplace Relations joining professionals from the legal, sport and education industries to share their experiences and knowledge with students.
Vibe Alive is a two-day festival for young Australians of all backgrounds that promotes Aboriginal and Torres Strait Islander cultures and encourages tolerance and teamwork. Vibe Alive allows students to sing, dance, play, create and learn in an environment where they can express themselves, share their talents and celebrate Aboriginal and Torres Strait Islander cultures. Participants also have the opportunity to explore healthy living and career options, as well as boost their literacy and numeracy skills.
The many and varied talents of the young people of South Australia were on display throughout the two-day competition, with judges and festival organisers amazed by participants' abilities. A special community concert held on the Wednesday evening was attended by 1800 members of the local community and gave students a chance to show off their skills, with the late Michael Jackson being honoured by some very young performers moon-walking and spinning their way into our memories.
The concert also featured performances by special guests Casey Donovan and So You Think You Can Dance? star Courtney Walter, who were also on hand throughout the festival to hang out with students, offer advice and encouragement, and undertake judging duties.
Former Olympian Kyle Vander-Kuyp was also in attendance as a Centrelink ambassador and role model. The champion hurdler oversaw the popular 100m dash, which was followed by the even more popular adults' race, which saw teachers, volunteers, Vibe Alive crew and role models thundering down the race track, much to the delight of onlookers!
Overall winners of Port Augusta Vibe Alive, on 795 points, were the 'Tjalas' from Kirton Point Primary School, who also took out the Middle School age category. Winners of the Junior School age group were Flinders View Primary School's 'School is Out' on 643 points, while the Lincoln Chicks from Port Lincoln High School took out the High School age category with 766 points.
The 2009 Vibe Alive Festival Program has two events in other states this year, including Kalgoorlie, WA, on 12-13 August and Weipa, Qld, on 16-17 September. For more information about
Vibe Alive, head to www.vibealive.com.au
For all media enquiries, including image requests or interview opportunities, please contact
Mayrah Butt at Vibe Australia on 0412 551 494 or [email protected]
Photo caption: "2009 South Australian Vibe Alive Cup winners 'Tjalas' from Kirton Point Primary School (Photograph by Andrew Rosenfeldt)
WINNERS – PORT AUGUSTA VIBE ALIVE
GOOD VIBRATIONS
JUNIOR
Eq. 2nd: The Thrillers (August Park Primary School)
Eq. 2nd: Kadi and the Midgets (Ceduna Area School)
1st: School is Out (Flinders View Primary School)
MIDDLE
Eq. 1st: Black Cockatoos (Port Lincoln Primary School)
Eq. 1st: Kultas (Kirton Point Primary School)
Eq. 1st: Tjalas (Kirton Point Primary School)
Eq. 1st: Black and Gold (Hincks Ave Primary School)
HIGH
3rd: Team Vibe (Caritus College)
2nd: Lincoln Chicks (Port Lincoln HS)
1st: The Hoods (Port Augusta Secondary School – Seaview Campus)
PAINT IT UP
JUNIOR
3rd: Blue Poulton (Stirling North Primary School)
2nd: Trouble Makers (Augusta Park Primary School)
1st: School is Out (Flinders View Primary School)
MIDDLE
3rd: Hot Shots (Port Augusta Primary School)
2nd: Fabulous 10 (Port Augusta West Primary School)
1st: Black Cockatoos (Port Lincoln Primary School)
HIGH
3rd: Fruit loops (Port Augusta Secondary School)
2nd: Purple Monkey Dishwashers (Port Augusta Secondary School – Seaview Campus)
1st: Shaq and Kingsley's Team (Port Augusta Secondary School – Seaview Campus)
COMMON GROUND
JUNIOR
3rd: Chilli Girlz (Ceduna Area School)
2nd: Nine Combine (Ceduna Area School)
1st: Flinders View Breakdown (Flinders View Primary School)
MIDDLE
3rd: Dudes and Dudetz (Augusta Park Primary School)
2nd: Fish And Chicks (Port Augusta West Primary School)
1st: Tjalas (Kirton Point Primary School)
HIGH
3rd: The Chavs (Port Augusta Secondary School)
2nd: Lincoln Chicks (Port Lincoln High School)
1st: The Gamers (Port Augusta Secondary School -Seaview Campus)
PUTTING IT TOGETHER
JUNIOR
1st: School is Out (Flinders View Primary School)
MIDDLE
1st: Tjalas (Kirton Point Primary School)
HIGH
1st: Awesome Eightsome Gaysome (Port Augusta Secondary School -Seaview Campus)
OVERALL WINNERS
JUNIORS
Bronze: 522 – The Thrillers – Augusta Park Primary School
Silver: 533 – Nine Combine – Ceduna Area School
Gold: 643 – School is Out – Flinders View Primary School
MIDDLE
Bronze: 708 – Fabulous 10 – Port Augusta West Primary School
Silver: 717 – Northern Groovy Grovers – Elizabeth Grove Primary School/Elizabeth North Primary School
Gold: 795 – Tjalas – Kirton Point Primary School
HIGHS
Bronze: 710 – The Gamers – Port Augusta Secondary School -Seaview Campus
Silver: 726 – The Chavs – Port Augusta Secondary School
Gold: 766 – Lincoln Chicks – Port Lincoln High School
BARRY JOHNSON SHIELD,
AWARDED FOR THE BEST AND FAIREST IN THE SPIRIT OF VIBE
Winner: Latrelle Stuart
THE VIBE ALIVE PORT AUGUSTA CUP
Winner: 795 – Tjalas – Kirton Point Primary School