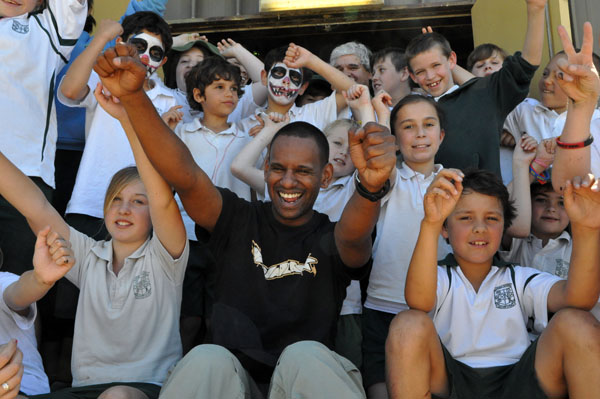 A host of talented performers and sports stars will attend the Redfern National Indigenous Vibe 3on3 Basketball and Hip Hop Challenge as role models to pass on valuable experience, encouragement and words of wisdom to students.
Vibe 3on3® role models attending include the legendary Jimmy Little, Trent Lake of the NSW Waratahs, former Australian rugby union 7's player Matt Sonter, rapper Mark 'Munkimuk' Ross, Aboriginal basketball star and Black Diamond Claude Williams, breaker Jason Campbell and dancer Medika Thorpe. The Sydney Kings will also be dropping by on the day.
The Vibe 3on3® will be held on 1st December 2010 at the National Centre for Indigenous Excellence from 9am-3pm and will feature an opening ceremony, face painting and a health expo.
The event brings together Indigenous and non-Indigenous people for a fun free day of basketball, dancing, music, health and culture. The event encourages sportsmanship, teaches new skills and builds self-esteem as well as promoting reconciliation at a grassroots level.
Event producer Mayrah Sonter says excitement is building for the Redfern event.
"Our Indigenous role models have a lot to offer the kids because they have succeeded in their chosen fields and are positive examples of what you can achieve when you set your mind to it," she says.
"Redfern is also such a fantastic city-based venue to hold our Vibe 3on3® – it's central for Koori kids and non-Indigenous kids – and the National Centre for Indigenous Excellence is a great setting and environment for our event."
The Vibe 3on3® aims to promote healthy lifestyles, strengthen communities and boost self-esteem. The Vibe 3on3® is also an excellent opportunity for health services and related organisations to introduce themselves to the wider community. For more information go to www.vibe.com.au
The Vibe 3on3® would not be possible without its sponsors Rio Tinto Aboriginal Foundation, the Department of Health and Ageing through the Office of Aboriginal and Torres Strait Islander Health and Vibe Australia.
We also thank our supporters the Koori Mail, Deadly Sounds and Deadly Vibe.
For all media enquiries, interviews or photos please call Maryann Weston at Vibe Australia on (02) 48 228230 or email on [email protected]