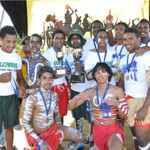 Despite it being the first ever Vibe Alive festival in Townsville organisers say they were overwhelmed by the number of participants who showed up for the Vibe Alive festival and as a result they were forced to close registrations early.
"We were blown away by the support for the festival," says executive producer of the Vibe Alive festival Gavin Jones.
"We've run over eleven events in our three year history and we've only ever had to close registrations one other time. We were at full capacity with over 2000 students in attendance."
The Vibe Alive festival is part of a national tour of the two-day Vibe Alive festival for young Australians of all backgrounds.
It features a range of traditional Aboriginal high-energy games, such as Nanyima, Kalkadoon kee'an and Mer kolap, as well as the Paint it Up and Good Vibrations competition which recognises that every young person has talent, whether it's painting, break dancing, rapping, hip hop, yodelling, ballet, jazz or tap.
Organisers say there were very impressed by the amount of talent in Townsville.
"Townsville definitely has unbelievable talent," says Gavin Jones. "Being up the top end of Australia it was also great to see the Torres Strait Islander culture shining so brightly."
The overall winners of the festival were team Gowrie, senior boys from Abergowrie school.
"Apart from being obviously talented these young men were also great role models and participated in every aspect of the festival," says Gavin.
Queenslander of the Year and Festival patron Dr Chris Sarra, was also in Townsville to attend the Vibe Alive festival for the first time and to speak to festival-goers about careers and goal setting.
"Vibe Alive is an opportunity for young people to come together in a creative learning environment to be challenged and inspired," he said.
"Role models like Rohanee Cox and Ernie Dingo inspired the students over the two days to improve their self-confidence, tolerance and encourage them to work together.
As part of the festival a community concert was also held to give the students a chance to showcase their talent in front of their own community and alongside singing sensation Naomi Wenitong (ex-Shakaya member now with the Last Kinection).
So far this year Vibe Alive has visited Moree in NSW and after the Townsville event will be headed to Port Augusta in South Australia (August 18-19), Kalgoorlie in Western Australia (August 25-26) and Bendigo in Victoria (September 15-16).
Vibe Alive is funded by the Australian Government's Community Festivals for Education Engagement program, designed to encourage school attendance, retention and healthy lifestyles for all young Australians, in particular Aboriginal and Torres Strait Islander students.