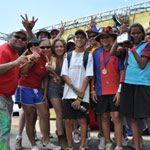 Vibe Alive has wrapped its successful second season of youth festivals across the country, with students from Queensland descending upon the remote far North West community of Weipa for two days of full-on excitement, fun and learning.
More than 600 students attended the festival, held for the first time in Weipa, on Wednesday and Thursday 16 and 17 September, with youth from the region taking part in friendly competition with others from communities including Arakun, Mapoon and Ayre. Congratulations to the 'Moonwalkers' from Western Cape College who took home the 2009 Queensland Vibe Alive Cup!
They were the overall winners with the most points and also winners in the Middle School category. The winners in the Junior School category were the 'Bulldogs' from the Western Cape College and completing the first Vibe Alive hat trick were the 'Cape Cannibals' who took out the High School category, also from the Western Cape College. (A full list of winners is attached.)
Mirella Buffa, supervising teacher from Ayr State High School, enjoyed the event so much, she'll be bringing her students again to Vibe Alive again next year.
"Even if I tried, I couldn't find something wrong with this festival – it was excellent!" said Mirella.
Weipa really went above and beyond as hosts of the Queensland festival, with the event far exceeding expectations.
"Weipa really got behind the Vibe Alive festival, from the local community including the local committee, right through to students and teachers," says Mayrah Butt, Producer of Vibe Alive.
"The hard work of the Weipa community resulted in one awesome festival and everyone is Weipa should be rightfully proud. The mix of remote and urban kids at the event demonstrated the new links being formed between the students, their schools and teachers as everyone worked towards the shared goal of improving the education and future prospects of our Indigenous youth".
Celebrity guests and role models meeting the kids and helping out with competition judging included stars from So You Think You Can Dance? Courtney Walter and Sermsah 'Suri' Bin Saad, acclaimed actor Michael Tuahine, Queensland Rap sensation Dizzy Doolan, former Harlem Globetrotter Dwayne cross, comedian and artist Kevin Kropinyeri as well as talented dancer Medika Thorpe, all encouraging the kids to work hard, stay in school and reach their full potential.
More than half the Weipa Community packed out the free Community Concert and Break Off competition on the Wednesday and Thursday nights to see the best of the festival strut their stuff on stage and enjoy some first class entertainment under the stars, courtesy of the Vibe Alive crew.
Vibe Alive is the new national youth festival in which teams of eight to twelve students represent their schools, competing in singing, dancing, painting and Indigenous sporting activities. They also complete a festival workbook and participate in interactive health and careers expos. Each component of the competition earns team points, with the team with the most points being named the winners in their age category.
The 2009 Vibe Alive Festival Program is now wrapped up for another year. For more information about Vibe Alive and to see the dates and locations for our 2010 season, head to www.vibealive.com.au
For media enquiries, interviews or photos, please contact Mayrah on 02 9361 0140 or [email protected]