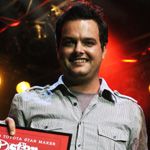 In the music industry, there's no such thing as an overnight success and this year's winner of the prestigious Toyota Star Marker talent search is no exception.
Luke Austen who recently won the Star Maker quest, which has launched the careers of country greats such as Gina Jeffreys, Lee Kernaghan, James Blundell and Keith Urban, has been slogging away behind the scenes in country music for more than 10 years.
Luke was just six years old when he first picked up a guitar, and he performed his first gig at the age of 13 after joining his family's band, The Outlaws, at age 12. He continued to perform with his father into the late 1990s. His first big break in the industry came when he was asked to join the band of the legendary country balladeer Brian Young. It was a great opportunity for the young performer not only to hone his skills, but also to tour through some of our most remote Aboriginal communities.
"The experience I had with Brian was second to none," says Luke. "Getting out to the most remote parts our country has to offer in the Tanami Desert and the Pitjatjantjaran lands was amazing as no one really gets a chance to take their music out there. Youngie's been taking his band out there for the last 30 years, and I learnt a lot from him.
"The most beneficial thing he taught me was that whether you are playing to two people or 200 people or 2000 people, you put on the same show no matter where you are. If people are coming to see you, then they deserve your best."
Like all success stories though, Luke says his tour with Brian didn't come easy. When Luke first approached Brian to go on tour, he was knocked back, but that didn't stop him pursuing his dream.
"When I was 16, I wrote him a letter and asked if I could go out on the road but he said I was too young back then. So I went on to study and graduated from the College of Country Music in 1999. I received a nomination for the Golden Guitar award at Tamworth the following year and that was when I first met Brian in person. He asked me how old I was and I told him that I was 17 but that I would turn 18 on the road. He then asked, 'Do you know how to play bass guitar?' and I said, 'No, but I'll learn!'
"So I went on the road with Brian for four years. It was hard playing bass and singing, because I was used to playing guitar and singing, but it was also great because I was broadening my horizons as a musician. That was a huge learning curve for me, but it opened up a lot of opportunities for work because there is a real lack of backing singer bass players in our industry."
During one of his tours with Brian, Luke met Troy Cassar-Daley, who was to have a huge impact on his career. Now 28, Luke has spent the past six years as part of Troy's backing band – an experience that's been a privilege.
"During that time Troy came out with Brian Young for a reunion tour – he did his first tour with Youngie – so SBS was there to film it for a documentary. When the tour was finished Troy said he had a gig in Melbourne and asked if I'd be interested. Of course, I said yes, so here I am six years later and I'm still in his band. It's an honour to be able to call Troy a friend. He's a great fella and he's as genuine as the day is long. He loves taking music to people and sharing it with them – we share that in common because that's what music is about for me. Another thing we got in common is that I'm from Grafton and we're both Clarence River boys."
Luke says that his time with Troy has had many highlights, including playing at major country-music events, such as the Tamworth Country Music Festival, Gympie Muster, Caboolture Urban Music Festival, Aboriginal Dreaming Festivals, A Day on the Green vineyard concerts, Perth City Muster and the Darwin City Muster, as well as performances on Sunrise, The Morning Show, Today, Mornings with Kerri-Anne and the Golden Guitar Awards.
He has also been lucky enough to share the stage with Australian music legends, including Jimmy Barnes, Kasey Chambers, Paul Kelly, Dave Gleeson of The Screaming Jets, Kevin Bennett of The Flood, Shane Howard of Goanna, Sara Storer, Wendy Matthews, Beccy Cole and Jimmy Little.
Apart from simply playing in Troy's band, Luke says he was also given the opportunity to stretch his writing skills and learn from the best. He got the opportunity to co-write with Troy and one of his co-written songs 'I Love This Place' was featured on Troy's ARIA Award winning album This Town Is Me.
But while Luke says he has loved every minute of his time with Troy, he has also kept his eye on his dream of eventually fronting a band of his own as a singer/songwriter. In 2009, he released his debut five-track EP, No Stranger To The Rain, at the Tamworth Country Music Festival. He says the release of his debut album inspired him to keep going and that is why he decided to enter the Star Maker quest.
"I was at a stage in my career where I was comfortable," says Luke. "I've always wanted to be an artist and a front man and I've loved every opportunity that's been passed my way, but I was getting a little too comfortable. I believe when you are in your comfort zone you don't push as hard as you could. I sat down and did some soul searching and realised that I had all these amazing prestigious artists taking me seriously, so then I had to ask myself, 'Why aren't you taking yourself seriously?' I thought it was time for me to commit to me, and I thought Star Maker was a good way to do that."
Despite all his experience, Luke says that the Star Maker competition was no walk in the park and that he had to face some pretty tough competition.
"It was extremely competitive there's just so much talent out there and I felt like a poodle at a rottweiler party," he laughs. "I really had to dig deep even though I had all that experience. Out on stage I was thinking, 'Now it's just me. I'm out there in the limelight and I can't hide on the side of the stage'. That was very challenging for me. I never once thought I had it in the bag, but I just wanted people to have an idea of what I was about so I let my music do the work for me."
Apart from wanting to live his dreams, Luke says he now has another reason for wanting to make sure he does as well as he can in the industry.
"I've got a little daughter, Xanthe, who is seven months old," says Luke.
"Becoming a dad has not only made me more responsible, but also more patient. Before I used to want things right now, but now that I've got bub, it's like right, easy as you go. I have to make sure all my decisions are right because it has to be in the best interest for her and her future. If you miss something along the way it's pretty hard to go back and pick it up, so I guess I'm experiencing the pressures that come with being a parent – but that just inspires me. You've got to provide and the only way to create a future in this industry is to commit to your craft and in doing that I'll be able to provide for my family."
With the prize for Star Maker including a big budget recording session, an album recording contract with Compass Brothers Records and the production of a video clip, Luke is now well on his way. Not only will he be providing for his family, but he also looks set to follow in the footsteps of his mentors and many of country music's greats.