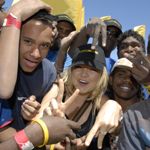 Over 500 students from around Victoria gathered in Mildura this week for Vibe Alive – an exciting new youth festival with a difference!
Vibe Alive is a two day festival for young Australians of all backgrounds that promotes Aboriginal and Torres Strait Islander cultures and encourages tolerance and teamwork. Vibe Alive will be held in five locations in 2008, with the community of Mildura chosen as the only VIC location for the festival's 2008 program.
"The spirit of Vibe Alive was also well and truly alive among all the young participants at Mildura Vibe," says Gavin Jones, Vibe Alive executive producer. "We saw some really inspiring examples of sportsmanship.
"We also saw some of the best student performances yet, including 'The Ronny" who was an absolute scream, and a real crowd favourite."
The overall winners of the Victorian Vibe Alive Cup were Mildura Titans from Mildura Public School.
The inaugural winner of the Barry Johnson Spirit of Vibe Alive Shield presented by Geoffrey Johnson and Kerrie Hayes was Jamarle Sailor. This shield will travel with the festival to each location and recognise the student at each festival who best displays the spirit of fair play.
Adding to the excitement of the festival were a group of special Vibe Alive role models, including former Australian Idol Casey Donovan, stars of the hit reality TV show So You Think You Can Dance? Courtney and Suri, Australian Seven's Rugby Union player Matthew Sonter, Centrelink Ambassador Kyle Vander-Kuyp, Black Diamond Claude Williams and Aboriginal artist and comedian Kevin Kropinyeri.
Vibe Alive festivals have also been held in Coonamble, NSW; Port Augusta, SA; and Kalgoorlie, WA; with one last Vibe Alive festival for 2008 to be held next week in Rockhampton, QLD.
The Mildura Vibe Alive festival would not have been possible without the generous support of the following amazing people and organisations:
Our principal sponsor – the Australian Government through the Department of Education, Employment and Workplace Relations
Our major sponsor – Youth beyondblue: a youth depression awareness campaign
Our sponsors – the Mildura Rural City Council
Our supporters – Sony, Questacon, the Rural Health Network, Global Colours, the Pharmacy Guild of Australia, Men's Shed and the National Film and Sound Archive
Our media partners – the Koori Mail, Deadly Vibe magazine, Deadly Sounds and vibe.com.au