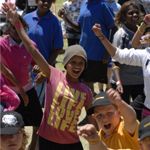 Vibe Alive's second year of youth festivals is off to a brilliant start with hundreds of young people from across NSW descending on Coonamble for two days of full-on excitement, fun and learning.
More than 1100 students attended the festival, on Wednesday and Thursday 27 and 28 May, with youth from the region taking part in friendly competition with others from as far away as Sydney and Newcastle. Congratulations to the Bogan Bulls from Nyngan Public School who took home the 2009 Coonamble Vibe Alive Cup!
They were the overall winners with the most points and also winners in the Junior School category. The winners in the Middle School category were Legends from Gulargambone and the winner of the High School category was Kaboom from Mudgee.
"It was a perfect start to the Vibe Alive Festival program for 2009," says Gavin Jones, Executive Producer of Vibe Alive. "Everyone in Coonamble is rightfully proud. New links were formed between schools, students, teachers, the local Aboriginal community and the greater Coonamble community, with everyone working together to improve the education and future prospects of our young people."
Celebrity guests and role models meeting the kids and helping out with competition judging included up and coming folk/jazz duo Microwave Jenny, both Suri and Courtney from So You Think You Can Dance? acclaimed actor Michael Tuahine, comedian and artist Kevin Kropinyeri and dancer Medika Thorpe, all encouraging the kids to work hard, stay in school and reach their full potential.
More than 3500 people from the local area packed out the Community Concert on Wednesday night to see the best of the festival strut their stuff on stage and enjoy a spectacular fireworks display courtesy of the Vibe Alive crew.
Vibe Alive is the new national youth festival in which teams of eight to twelve students represent their schools, competing in singing, dancing, painting and Indigenous sporting activities. They also complete a festival workbook and participate in interactive health and careers expos. Each component of the competition earns team points, with the team with the most points being named the winners in their age category.
"Vibe Alive Coonamble was a huge success," says Vibe Alive Patron Kerry Hayes. "It was the perfect platform for students to be motivated, inspired and entertained.
"We certainly found all the young participants inspiring – they were energetic, exciting, fun and full of potential."
Vibe Australia would like to thank the following organisations for their support of the Coonamble Vibe Alive Festival:
Ambulance Service NSW
Australian Education Union
Beyond Blue
Business Enterprise Centre
Centre of Indigenous Education – The University of Melbourne
Centrelink
Charles Sturt University
Coonamble Aboriginal Medical Service
Coonamble Health Service – Greater Western Area Health Service
Coonamble Shire Council
Coonamble Youth Centre
Country Energy
Dare to Lead Project
Principals Australia
Deadly Sounds
Deadly Vibe
Defence Force Recruiting
Department of Fair Trading Dubbo
Equmen
Franklin Electronic
Global Colours
Kellogg's
Kerrie Hayes Productions
Koori Mail
MTMFM
National Film & Sound Archive National Rural Health Student Network
NSW Aboriginal Education Consultative Group NSW Department of Education and Training
Aboriginal Education Directorate
NSW Fire Brigade
NSW Health
NSW Police
NSW Rural Fire Service
NSW Teachers Federation
Northern Territory Institute for Community Engagement & Development
Office of Fair Trading NSW
Roads and Traffic Authority
Rural Health Workforce Australia
SONY music
TAFE Western Institute
Oorala Aboriginal Centre at the University of New England
The 2009 Vibe Alive Festival Program has only just begun with more events in other states including Mildura on July 29 & 39, Port Augusta on August 5 & 6, Kalgoorlie on August 12 & 13 and to conclude in Weipa on September 16 & 17.
For media enquiries, interviews or photos, please contact Mayrah on 02 9361 0140 or [email protected]
Vibe Alive is proudly supported by the Australian Government through the Department of Education, Employment and Workplace Relations.
WINNERS – COONAMBLE VIBE ALIVE
GOOD VIBRATIONS
Junior
1st St Brigids – Hot Shots
2nd Nyngan Public School – Bogan Bulls
3rd St Brigids – Generation Y
Middle
Eq. 1st Condobolin High School – Run It
Eq. 1st Nyngan High School – Nyngan High 1
3rd Trangie Central School – Trangie Testers
High
1st Hunter School of the Performing Arts -The Rhinos
2nd Wellington High School – Wello Mob
3rd Narromine High School – Snorklers
PAINT IT UP – VISUAL ARTS
Junior
1st Coonamble Public School – Bad Girls
2nd Bunnyong Public School – Beauties
3rd St Brigids – Generation Y
Middle
1st Gambirrang Dubbo – Delroy College
2nd Cobar High School – Cobar Red Dust
3rd Coonamble High School – The Bogans
High
1st Wellington High School – Wello Mob
2nd Mudgee High School – Kaboom
3rd Nyngan High School – Bogan Babes
COMMON GROUND
Junior
1st Nyngan Public School – Bogan Bulls
2nd Crawford Public School – Colbee
3rd Crawford Public School – Narragingy
Middle
Eq.1st Girri Girri Sports Academy – Girri Goblers
Eq.1st Nyngan High School – Nyngan High 1
3rd Cobar High School – Cobar Red Dust
High
1st Nyngan High School – Bogan Babes
2nd Gambirang Wellington High School – NASCA Rally Team
3rd Mudgee High School – Kaboom
OVERALL WINNERS
Junior
1st Nyngan Public School – Bogan Bulls
2nd Nyngan Public School – Tigers
3rd Crawford Public School – Colbee
Middle
1st Gulargambone Central School – Legends
2nd Coonamble High School – The Bogans
3rd Walan Barramal Sports Academy – Deadly NASCA
High
1st Mudgee High School – Kaboom
2nd Gambirang Wellington High – NASCA Rally Team
3rd Nyngan High School – Bogan Babes
ROBYN HARRIS MEMORIAL ENCOURAGEMENT AWARD
Nathanial Thurston – Coonamble Public School
BARRY JOHNSON SHIELD, AWARDED FOR THE BEST AND FAIREST IN THE SPIRIT OF VIBE
Sheridan Preston – Bunnyong Public School
THE VIBE ALIVE COONAMBLE CUP
Nyngan Public School – Bogan Bulls