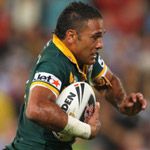 Hodges named man of the match in Test win
Justin Hodges helped exorcise Australias World Cup demons by staring for the Kangaroos and earning man of the match honors in the Anzac Test on Friday night.
Hodges was devastated at missing the 2008 World Cup due to injury and displayed "what could have been" when he stared for the Kangaroos in their 38-10 defeat of New Zealand, bagging two tries.
"It means everything. You grow up watching your idols play for Australia and you see yourself out there," Hodges said after the match.
"It's something nobody can take away from you and it's one of the proudest moments of your life.
"It's very satisfying, I've been waiting for this chance ever since the World Cup, I'm just very happy with the way I played and the way the team went.
Hodges scored a trademark dummy-half try just before the halftime break to give Australia a crucial 10-point lead.
"I couldn't believe it, it was just one of those tries that came off the back of our good forward roll," he said.
His second try came seven minutes from fulltime.
Thurston stars for club and country
Johnathan Thurston bagged five tries in the space of 24 hours to lead Australia and club side North Queensland to wins over the weekend.
Thurston began his impressive 38 point hall on Friday night when he scored two tries and kicked three goals in Australia's 38 – 10 win over New Zealand in the Anzac Test.
The following night in Townville, Thurston went one better in the Cowboys thrilling 24-20 win over the Dragons, bagging a hat-trick of tries and kicking four goals
Thurston waltzed virtually untouched through the line for two of his three tries, the other coming when he was on-hand for an off-load by a back-wheeling Willie Tonga on the tryline.
"He showed last night what he can do and to bring that back for us it was unbelievable," said Thurstons teammate Matt Bowen after the match.
"We knew they had a good defensive record and we worked hard on our ball handling and attack.
"It paid off tonight and hopefully we can keep it going."