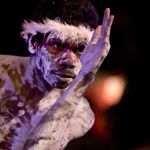 The Dreaming festival is a place for all Australians to immerse themselves in the contemporary and traditional practices of the world¹s Indigenous cultures.
Part of the uniqueness of The Dreaming festival is being in the beautiful Woodford valley, sitting around a campfire listening to an elder tell a story with warmth, generosity and spirit, then strolling through the festival streets to the theatre venue and immersing yourself in a production you would normally only catch in the city. The Dreaming is an intimate festival and it is the intriguing atmosphere that captivates audiences.
Families can enjoy a relaxed and easy festival experience. There are traditional games, drumming, dancing and flower weaving workshops, and comfortable venues. It is common for children to spend hours sitting on the grass watching the traditional dancers perform ancient stories. This year the Doonooch Dancers will perform their Owl Dreaming, The Djilpin Dance Troupe will dance the Black Crow and Sugarbag Fly song cycles and The Rikina Inma will perform stories of ³The Seven Sisters and The Wati Ngintaka² the man who stole the grinding stone.
Professor Mick Dodson, our Australian of the year and Co-Chair of Reconciliation Australia will present a keynote speech at The Dreaming on Sunday the 7th June at 12.30pm. Professor Dodson stated ³The Dreaming Festival is a wonderful showcase of Indigenous talent – a great gathering of proud people demonstrating strong, proud cultures. It's an experience every Australian needs and deserves, and I'm very much looking forward to being part of it this year."
With concerts, ceremony and dancing grounds, art galleries and a speakers programme, The Dreaming offers an authentic experience of Indigenous culture with an extensive programme of 850 high profile Indigenous artists, performers, leaders and healers.
To view and purchase the programme and tickets visit the festival website at www.thedreamingfestival.com or phone 61 7 5496 1066.