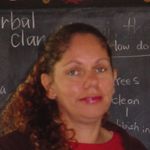 Name: Shirley Close
Most mothers of six would have their hands full enough without taking on any extra responsibilities. But not Shirley Close.
This Butchulla and Goompril woman is the heart and soul behind Garbutt State School in Townsville, Queensland. As well as teaching Years Three, Five and Six, Shirley is also the local Community Development Officer, runs the local Aboriginal Student Support and Parent Awareness (ASSPA) program and teaches cultural studies to the entire school.
"We get the whole community involved in the cultural studies classes," says Shirley. "About 75 per cent of our students are Aboriginal, so we teach a lot of creation stories, traditional art and dance, as well as oral history.
"But another five per cent of our students are Cook Islanders, so we incorporate their cultural heritage and language into the classes as well."
Through ASSPA, which is funded by the Department of Education, Science and Training (DEST), Shirley has managed to coordinate in-school tuition which involves students and their parents.
"This is a school where everyone feels really welcome," Shirley says proudly.
Last year, Shirley won a National Excellence in Teaching Award for helping to bring about significant improvements in literacy and attendance at Garbutt.
"It's not like it's just me," she says modestly. "We have a great team here."
Shirley is also passionate about addressing the importance of Indigenous education in our schools.
"Teachers have a responsibility to address this in their curriculum but so many don't," she says. "Maybe they're scared; maybe they don't know where to go to ask. If I could get the information out there, that could make such a difference."
Shirley got into teaching almost 20 years ago through an Aboriginal and Torres Strait Islander Teachers Education Program, which she did through James Cook University.
Since then, she has taught all across the region, in places such as Rockhampton, Normanton and Townsville. She's been at Garbutt for more than six years, and is happy to stay put for now.
"There's something about teaching," she says. "Days go by and you feel like you're getting nowhere, and then you get that one day when that one child who you've been trying so hard to engage actually does – it's just such a great feeling of achievement."