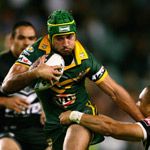 Overcoming a family tragedy the night before, Johnathan Thurston has produced one of his most polished displays at the international level, leading the Kangaroos to an impressive 30 to 6 win over New Zealand and earning Man of the Match honours.
The Australian team wore black armbands as a sign of respect for the tragedy which struck Thurston's family on Saturday night when Thurston's Uncle was murdered in a Brisbane park.
While Scott Prince was on standby to take on the half back role should Thurston have withdrawn from the match, the North Queensland star played on, having a hand in three of Australia's tries and kicking four goals.
In a dominant display, the Kangaroos proved they are the nation to beat at this year's World Cup, controlling the team considered their biggest competition in the tournament from the outset, the New Zealanders for most of the match simply looking lost for answers.
Israel Falou crossed for two tries, continuing his impressive try scoring rate at intentional level, as did Greg Inglis who scored Australia's first try of the match.
While Thurston was unavailable for comment after the game, Coach Ricky Stuart read out a statement on his behalf.
"I would like to thank all my teammates for their support over the last 24 hours," said Thurston.
"Tonight gave me a chance to let out some of the emotion."
Thurston is now in Brisbane to grieve with relatives and is yet to decide weather he will play in Australia's next match against England on Sunday in Melbourne.