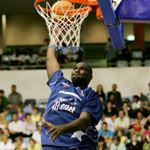 After becoming the first Indigenous Australian to be drafted into the NBA last month, Nathan Jawai has signed a two-year guaranteed deal with the Toronto Raptors.
Originally drafted by the Indiana Pacers, Jawai's trade to the Raptors was made official yesterday but was the Draft's worst kept secret.
Jawai will play alongside fellow draftee and six-time NBA All-Star forward-centre Jermaine O'Neal, who was also traded from the Pacers.
"We have agreed to terms with the Toronto Raptors on a guaranteed two-year deal, which is rare for a second round pick and certainly displays the promise they see in Nathan," Jawai's agent Daniel Moldovan said.
"We are thrilled that Nathan has gone to such a first-class organisation and that he will be playing behind two of the true superstars of the NBA in O'Neal and Chris Bosh.
"What this means is that Nathan will not only be on the Raptors roster immediately, as opposed to developing further in the NBL, but he will be right in the thick of the minutes given that the team is going with a big man rotation featuring O'Neal, Bosh, (Andrea) Bargnani, Jawai and (Kris) Humphries."