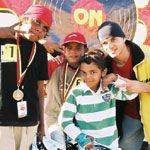 The Vibe 3on3® bounced its way to Port Augusta for a weekend of basketball, music and fun.
The Vibe 3on3® wrapped up its 2006/2007 round of events with a trip to the Flinders Rangers town of Port Augusta in South Australia on the weekend of Saturday June 30 and Sunday July 1, 2007.
This is the sixth time that the popular 3on3 basketball, music and health festival has visited Port Augusta, and the locals welcomed the 3on3 crew with open arms.
Port Augusta Basketball Stadium came alive with the sounds of hip hop, laughter and running feet as kids of all ages joined in the many activities on offer, including writing and recording raps onto CD in Vibe's portable recording studio.
Pika Wiya Health Service ran a special stall for the locals, to provide important health information and promote their services. The Child Health Check Roadshow was also at the event, to offer free health checks for the local kids and educate parents and families about the importance of seeing a doctor or Aboriginal Health Worker regularly.
There was a barbecue for everyone to enjoy, and Indigenous hip hop star Munkimuk took on the role as 3on3 DJ, playing a choice selection of hip hop, RnB and Australian Indigenous music.
"The Vibe 3on3® was again successful in Port Augusta due to the combination of pre-event planning by the local committee and community participation at the event," says 3on3 coordinator Claude Williams.
"The kids really gave their all in every element of the event, particularly in the recording studio. It will only be a matter of time before we return."
The Vibe 3on3® 2007/2008 round of events kicks off later this month with a trip to the Victorian town of Mildura.
The Vibe 3on3® is a two day Aboriginal youth weekend festival that incorporates basketball, dancing, art, culture and health. We aim to promote healthy lifestyles, strengthen communities and boost self-esteem. The Vibe 3on3™ is also an excellent opportunity for health services and related organisations to introduce themselves to the wider community. For more information, go to www.vibe.com.au
The Vibe 3on3® would not be possible without our sponsors Rio Tinto Aboriginal Foundation, the Department of Health and Ageing through the Office of Aboriginal and Torres Strait Islander Health, the Department of Communications, Information Technology and the Arts and the Alcohol Rehabilitation and Education Foundation.
Local sponsors who helped make the Port Augusta 3on3 possible were Port Augusta City Council, Pika Wiya Health Service, Spencer Gulf Rural Health School and Umeewarra Media FM.
WINNERS
Boys 10 and Under
Team Name: The Bombers
Hayden Barnes
William Milera
Sydney Waye
Tyrone Wade
Presenter: Dawn Lickouresis
Organisation: Port Augusta Committee

Boys 12 and Under
Team Name: Warriors
Brenton Gibson
Shane Wary
Jake Eyles
Billy Joe Martin
Presenter: Bradley Amos
Organisation: Complete Personnal

Boys 14 and Under
Team Name: Rockets
Joshua Schmel
Elijah highford
Nathanial Schmerl
Henry Boles
Presenter: Leonard Lester
Organisation: Family Relationship Centre

Boys 16 and Under
Team Name: Black All-stars
Dale Nelson
Daryl Hudson
Philip Stewart
Presenter: Luke Carroll
Organisation: Vibe Australia

Girls 12 and Under
Team Name: Devils
Rebecca Helmans
Adel Kennedy
Rebecca Wilton
Leanne Brown
Presenter: Angela Russell
Organisation: Spencer Gulf Rural Health school

Girls Under and 14
Team Name: NWA
Tamara Warren
Amy Reid
Zulie Rha
Trishara Dodd
Presenter: Maria Calyun
Organisation: Pika Wiya Health Service

Rap Competition Winners
Team Name: CD's Girls
Christine Saunders
Shantelle Saunders
Bonny Anderson
Kylie Gaston
Presenter: Abie & Wok Wright

Rap Competition Winner Boy
Team Name: Warriors
Brenton Gibson
Shane Wary
Jake Eyles
Billy Joe Martin
Presenter: Jerome and Philip




Best Team Card
Team Name: Cheetahs
Peter Wilton
Brenton Saunders
Keenan Saunders
Jerry Austin
Presenter: Medika Thorpe
Organisation: Vibe Australia

My Story
Amber Elly
Presenter: Nancia Guivarra
Organisation: Vibe Australia

Boys Breakoff
1st Jerry Austin
2nd Latrella Stewart
3rd Sydney Waye
Presenter: Isaac Parsons
Organisation: Vibe Australia

Girls Breakoff
1st Patricia Waye
2nd Kelsey Cambell
3rd Deborah Kennedy
Presenter: Rachel Kontiminas
Organisation: Vibe Australia




Puggy Hunter Winner
Name: Kylie Gaston
Presenter: Claude Williams
Organisation: Vibe Australia