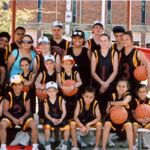 The Vibe 3on3® made a big first-time splash in Liverpool during National Youth Week, with the community turning out in great numbers on the weekend of April 5 and 6 to join in the basketball, hip hop and healthy living action.
Participants travelled from as far afield as Glebe, Mt Druitt and Gosford to take part in this popular travelling youth festival.
"The Liverpool 3on3 was the most successful 3on3 ever staged in Sydney," said Gavin Jones, Executive Producer of the 3on3. "It was great to see people from all over the Western Sydney region coming together as a community to celebrate Youth Week."
Joining the Vibe crew in Liverpool was former Australian Idol Casey Donovan. Casey spent the weekend teaching young participants about singing in the special Talent Development Project (TDP) Vibe Stars tent along with NIDA graduate and performer Trevor Ryan. Other role models on hand also included Penrith Panthers player Joey Williams, Olympic sprinter Joshua Ross and Australian Rugby Sevens player Matt Sonter.
Local Aboriginal health services South Western Sydney Area Health Service and Tharawal Aboriginal Medical Service set up a special health expo at the event, offering locals the chance to find out more about health services available to them. Also taking part was Australian Hearing, who conducted free hearing screenings.
Minister for Youth Linda Burney also joined in the festivities, and spoke of how much the 3on3 Challenge is valued.
"The 3on3 captures the spirit of Youth Week," she said. "It's all about young people having fun, being creative and expressing their talents."
The Vibe 3on3® would not be possible without our sponsors Rio Tinto Aboriginal Foundation, the Department of Health and Ageing through the Office of Aboriginal and Torres Strait Islander Health and the Department of Environment, Water Heritage and the Arts.
Local sponsors who helped make the Liverpool 3on3 possible were The South Western Sydney Area Health Service, Tharawal Aboriginal Medical Service, Gandangarra Local Aboriginal Lands Council, KARI, Woodville Community Services, Liverpool PCYC and The Junction Works.
A big thank you also goes out to all the volunteers who gave of their time to help make the Liverpool 3on3 such a success.
WINNERS
Boys 10 and Under
Team Name: Super Ballers
1. Eddie Kendall
2. Tyrone Waind
3. Logan Kendall
4. Blake Claton
5. Jacob Carroll
Presenter: Norma Burrows
Organisation: KARI
Boys 12 and Under
Team Name: Koori Boys
1. Alex Dixon
2. Kurtis Griffin
3. Josh Jones
Presenter: Isaac Parsons
Organisation: Vibe Australia
Boys 14 and Under
Team Name: Mixed Breed
1. Christopher Sturgiss
2. Cruise Matahau
3. Ngara Ganci
4. Tyrelle Connelly
Presenter: Kay Bussell
Organisation: Muru Nanga Mai
Boys 16 and Under
Team Name: ADF
1. Ali Kalkan x
2. Ervin Majetic
3. Peter Gowman
4. Shane Mord
Presenter: Freda Simpson
Organisation: Parent Support Program
Boys Open
Team Name: Liverpool Allstars
1. Jack gordan
2. Scott Sauvao
3. Billy Carroll
4. Rob Carroll
Presenter: Robbie Bell
Organisation: Woodville Community Centre
Girls 10 and Under
Team Name: Young Blacks
1. Nakkaih Simpson
2. Tiarna Carroll
3. Stevie Carroll
4. Kala Simpson
Presenter: Luke Carroll
Organisation: Vibe
Girls 12 and Under
Team Name: Phantom
1. Ashely Cosgrove
2. Amy Cosgrove
Presenter: Susan Davis
Girls 14 and Under
Team Name: 3c's
1. Carley Williams
2. Chantelle Rumble
3. Chantelle Stanton
Presenter: Michelle Donohue
Organisation: Liverpool PCYC
Girls 16 and Under
Team Name: All stars
1. Lani Varlia
2.Lailah Knohu -Tekeura
3. Summer Tautolo
4. Latoya Sounds
Presenter: Josh Ross
Organisation: Vibe Australia
Open -Girls
Team Name: Black Warriors
1. Kylie Thomas
2. Merinda Beale
3. Bianca Cruse
Tania Miller
Presenter: Joey Williams
Organisation: Vibe Australia
Best Lil Vibe
Young Blacks
1. Nakkaih Simpson
2. Tiarna Carroll
3. Stevie Carroll
4. Kala Simpson
Presenter: Rachel Kontominas
Organisation: Vibe Australia
Best Lil Vibes – Boys
Name: Jermaine Thurston
Presenter: Mark Ross
Organisation: Vibe
Best Art House
Team Name: The Super Ballers
1. Eddie Kendall
2. Tyrone Waind
3. Logan Kendau
4. Blake Claton
Presenter: Cherie Carroll
Vibe Australia
Break Off Boys
1. Edward Jones
2. Logan Kendall
3. Justin Smith
Presenter: Scott Thompson
Organisation: Vibe
Girls
1. Latoya Sands
2. Merinda Beale
3. Jamieka Rossman
Presenter: Medika Thorpe
Organisation: Vibe Australia
TDP Vibe Stars
1. Minnie Beale
2. Kylie Thomas
3. Biance Cruse
4. Lani Vaeila
5. Logan Kendall
6. Tnya Miller
Presenter: Trevor Ryan
Organisation: Talent Development Project
TDP Vibe Stars Scholarship Winner
1. Billy Carroll
Presenter: Robyn Philpot
Organisation: TDP
Puggy Hunter
Madison Hoskin
Presenter: Gavin Jones
Draw Australian Hearing Prize
Leanne Bamford
Jessie Smith