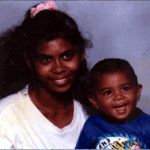 Name: Bella Savo
When it comes to ambition and willingness to succeed, Bella Savo's four children -Anthony, 12, Kerry, 11, Marion, 8, and Trevor, 6 – couldn't have a better example than their own mum.
Originally from Thursday Island, Bella has been an important and influential member of the Weipa community for 20 years.
Weipa, on the remote tip of Cape York Peninsula, is a tightknit community and, as far as family is concerned, Bella considers herself lucky to have been able to raise her children in such a warm and supportive environment.
"Family, to me, is all about love and support," Bella says. "I've always had a lot of great family support, and I must thank them for being there and helping me. Having that help is so important, especially when having children at a young age."
Bella was able to study and find work while raising her children, thanks to the help of her family and friends. Her situation shows the importance of having people around who care and can be depended upon when needed. Bella's kids know that they can always depend on one another.
"We are a very close group and we do just about everything as a family," Bella says. "We all love fishing, and we go fishing and out camping a lot together. When we go camping, I teach the kids hunting and gathering as well. It was taught to me by my grandparents and now I can carry on the tradition to my family. The kids love going away together, running on the open beaches and playing."
Bella doesn't just talk the talk when it comes to the advice she gives her kids – she also walks it. Her own dedication to education and hard work throughout her life has led her to a successful career, and her achievements make her a perfect role model to her kids.
Bella's oldest boy, Anthony, aims to go to boarding school in Townsville to further his education and pursue his passion for sport. It seems that his mother's ambition and respect for education has rubbed off.
After graduating from Weipa North High School, Bella completed several office traineeships, leading her to a job with the Napranum Aboriginal Corporation, where she worked as a cultural director for six years.
Bella now works for Comalco as a community officer. She represents the company when she helps out with events such as the National Indigenous 3 on 3 Basketball and Hip-Hop Challenge and the Croc Eisteddfod.
"I stress the importance of education to my kids all the time because I see that these days education is so important in being able to get a job," Bella says.
"I'm always talking to my kids about attendance at school and trying to make them see that they can be anything they want to be."