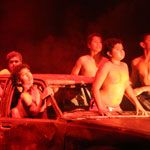 All in the Family
Stephen Page returns with a modern tale of family, music and culture.
Take seven boys aged between 10 and 14, and let them tell stories, sing songs, and generally yarn about what is important to them. In a work that takes the best of story-telling, dance, and just jamming with your mates, and with a set that features a burnt-out Torana, Kin is both a celebration and thought-provoking performance from a group of young cousins.
Kin is the latest work from acclaimed choreographer and Bangarra Artistic Director Stephen Page. The production brings together three generations of Page men in a story of family, community and history and features music by Stephen's brother David.
Told through the eyes of Stephen's nephews " Isileli, Sean, Ryan, Josiah, Samson, and Curtis " and his son Hunter, Kin explores the boys' urban upbringing, influenced by popular culture and a love of hip-hop and football.
Kin will be showing at the Drama Theatre at the Sydney Opera House from January 23-26, 2008.
For more information, head to www.sydneyfestival.org.au