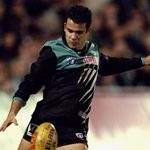 Port Adelaide Power couldn't have got off to a better start this year than taking out their first-ever Ansett Cup. With big wins over last year's champions the Essendon Bombers and Sydney Swans, they went on to thrash those wily Geelong Cats, maintaining a perfect record throughout the round.
Progressing through to the semi finals, the Power came up against a strong North Melbourne Kangaroos team. The game proved to be one of the closest in AFL history, with both sides separated by less than a goal at every break. But Port Adelaide proved too good for the 'roos in the end, running away with the match 102 to 86. They then faced a strong Brisbane Lions in the grand final, but, with a big home crowd advantage at Football Park, they annihilated the big cats by a staggering 85 points.
For Port Adelaide's defender Shane (Bondy) Bond, it was a bittersweet victory. This was the one game he'd been dreaming of playing ever since he signed with the team in 1997. Yet due to injury, he could only spur his teammates on from the sideline.
Shane first appeared in the AFL spotlight back in 1994, as an enthusiastic 18 year old ready to take on the world. Signing with West Coast Eagles, Bondy started as a defender but was soon assigned a forward role. This allowed him to utilise his speed skills and roam the field with greater freedom.
As the season continued, more and more people started commenting on the young forward's talents. Shane surprised even himself, growing enormously in confidence and playing better than he'd ever imagined. His amazing ball skills played a deciding role in the Eagles' premiership win that year.

"When I look back on my first year in the AFL I still can't believe that I won a premiership so early into my career," says Shane. "The feeling of actually winning was just so incredible."
To add to Shane's dream start, he was also awarded his club's Rookie of the Year award.
Port Adelaide joined the AFL in 1997, and began targeting Shane as a potential player. Shane recalls many people not giving the fledgling team much credit back then. But the Power sure did play some impressive football in their debut year, finishing ninth in the competition and almost making it into the finals.
"We sure did open a lot of people's eyes that year. The Adelaide Crows won the premiership that year anyway, so it was good for South Australian football."
Bondy was sadly missed during last year's season, playing only two games after dramatically injuring his knee against the Kangaroos in round 14. After the match, Shane was told he would need surgery and wouldn't be able to play for the rest of the season. Needless to say, he was gutted.
But Shane has really put his nose – or should one say, knee – to the grindstone this past off-season, determined to rehabilitate in time for the kick off. That means swimming endless laps, cycling around his hometown of Adelaide, running many kilometres and lifting loads of weights at the gym.
Shane says he can't wait to get back on that field. "It's something that I'm definitely looking forward to. But first I want to make sure my knee is 100 per cent." And with 91 games behind him, 2001 looks like the year in which Shane Bond will reach his century.
Readily admitting to being a family man, Shane says he loves to spend time with his partner, Nicole, and their two daughters. He also enjoys undertaking community outreach work on behalf of his club. "It's important to teach young kids about healthy living," he says. "We show them how to kick the footy around, pass the ball and be a good team player."
Well, if there's anyone who can teach them that, it's Shane Bond.