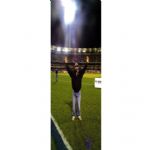 Name: Fred Cobbo
Fred Cobbo, 35, has two daughters – Brittney, 11 and Cassandra, 10 – whom he adores. One day he envisions them having big city jobs, and pursuing their interests in dancing and the culinary arts. He attributes their success to his emphasis on education, which he considers "very important for life learning".
But Fred goes one step further. Fred believes in leading by example, and he serves as a role model for all of the students at Cherbourg State School in Queensland. His dedication to the youth of his community is why Fred is this month's Vibe Parent of the Month.
By trade, Fred is a qualified and certified electrician. His boss, school principal Chris Sarra, points out that he "could easily make more money doing that, but he chooses to work at the school".
For 23 years, Fred worked at Cherbourg City Council as an electrician. Thirteen years ago, he was approached to work in the school as a role model, liaising between the local community and the school community, encouraging students to focus on their studies and to aim for a trade after graduation.
Having found success in connecting with students, particularly boys, Fred now works as a public relations officer, and helps to liaise between students who are having difficulties and their teachers. As a black fulla and a parent, Fred says he's able to relate well to the other parents of the Cherbourg community.
Fred realises the challenges his own children face, which is why he wants to reach out to other kids at the same time. "I'm just an average fulla," he says. "When I grew up, you had to have a permit to live in the community."
Even today, people resist listening to and respecting the opinion of younger kids. But kids feel safe talking to Fred about their troubles and concerns. As a role model to the young men of the community, Fred even spends his weekends getting to know them, having a yarn and giving advice on education and other values.
When Fred sees his students achieve things and are rewarded for doing the right thing, he feels proud. "Sometimes I expect them to be tradesmen but then they say they're setting their goals as high as a doctor," he says. Needless to say, Fred's typical day is "fantastic". He goes from home to school seeing nothing but smiling faces.