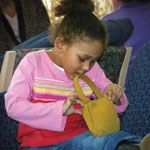 Together we are building a happier, healthier community.
The recent release of the National Aboriginal and Torres Strait Islander Health Survey 2004-2005 revealed that there are still lots of health problems in our community. But it also showed that we are becoming more responsible about getting the health care we need.
According to the survey, Indigenous Australians were more likely to have consulted health professionals (other than doctors or dentists) than other Australians. In remote areas, Aboriginal health care workers were consulted by 13 per cent of the population.
Many Aboriginal people feel more comfortable accessing health services that understand the cultural concerns of the Indigenous population. That's why your local Aboriginal Medical Service (AMS) is so important.
Health for our mob by our mob
AMSs aim to improve the health status of Aboriginal people through the provision of high quality clinical and health improvement care services delivered in culturally appropriate ways.
The first AMS was opened in Redfern, Sydney, in 1971. It was set up by Gordon Briscoe, Dr Ferry Grundseit, the late Dr Fred Hollows and Colleen Smith, who were all concerned with the serious health problems of Aboriginal people in Sydney. Their hard work and determination was the building block for the establishment of hundreds more Aboriginal-owned and -operated community health services around Australia.
This shows that the best way to tackle the health problems that threaten our community is to do it our way – appropriate health care for the community by the community.
"Aboriginal Medical Services are important to the Aboriginal community because they are community controlled," says Dr Rowena Ivers of the Illawarra AMS, on the south coast of NSW. "That means they usually have an Aboriginal board from the local community and Aboriginal staff working for the service."
What you'll find at your AMS
Because they are Aboriginal-friendly services, you can expect to be seen by an Aboriginal Health Worker, nurse or doctor. But as well as doctors and nurses, your AMS can also provides huge range of other health services.
"Aboriginal Medical Services also often have other services to offer such as dental care, childhood nurses and midwives, counsellors and optometrists," says Rowena. "They generally bulk-bill for their services, so you'll need to bring your Medicare card."
If you don't have a Medicare card, you can ask your AMS to help you get one, ring Medicare on 132 011 to find your closest Medicare branch, or head to www.medicareaustralia.gov.au
AMS can also often provide transport to and from their service for people who live far away, or who have difficulty getting around because of illness, injury or old age.
"Aboriginal Medical Services offer care for everyone, from newborn babies to great-grandparents," Rowena says. "At the Illawarra AMS we see a lot of people for coughs and colds, for asthma, for childhood illnesses, diabetes and heart problems, for injuries or broken bones, or for when people are feeling down."
Many AMSs also run specific programs that deal with issues such as hearing health, sexual health, substance misuse and mental health.
There's more to your AMS than you might expect
Aboriginal Medical Services aren't just for when you're sick. They can also help you with a whole host of other things to help you stay healthy and strong.
"AMSs can also help with preventing health problems in the future," Rowena says.
"We also do preventive care – that is, checking healthy people to see that they are not developing health problems. For instance, many services have child health clinics for checkups for babies and kids, including immunisations.
"They can also offer women's health services, including well women check-ups, Pap smears and care for pregnant women. They can offer well men's check-ups and check-ups for elderly people."
So make sure you pay a visit to your local AMS soon. Drop by for a cup of tea and a yarn, for advice and information, or to get help with a specific health problem that might be worrying you.
To find an AMS near you, go to health.vibe.com.au or check out the list over the page.