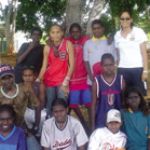 Name: Maryanne Malbunka
Maryanne Malbunka received an extra special gift for Mother's Day this year when she was named the national winner of the 2004 Barnardos Australia's Mother of the Year Award.
The award was announced last month at the Avillion Hotel in Sydney, where Maryanne was presented with a brand-new car as her prize for winning the prestigious award.
The award, established in 1996, is the only national award linked to Mother's Day and celebrates the achievements of mothers from around Australia.
Maryanne was nominated for the award by one of her workmates at the Hermannsburg Community Clinic in central Australia.
As well as raising two of her own children, Maryanne has also adopted six other children between the ages of three and 11.
Maryanne has been working full-time as a senior Aboriginal health worker at the Hermannsburg clinic for more than 10 years and also works after-hours on outcalls throughout the week.
But wait, there's more. As well as keeping busy with work and her family, Maryanne is also a respected artist in her community. She is also studying for her Certificate 4 in Aboriginal Health Worker training.
" Maryanne Malbunka would be one of the most dedicated mothers I have met," says her friend and work colleague Helen Haughton, who nominated Maryanne. "Maryanne is an amazing woman with so much enthusiasm and energy – working full-time, studying and managing to care for eight children!"
"Being a mother is all about joy and love," says Maryanne.
"I encourage all of my kids to take care in their schooling and their sport. They all go to school and they all play sport on the weekends and I love them all the same – they are all my family."
And Maryanne's words of advice to other mothers are simple but filled with resonance.
"Just look out for them and always be there for them," she says. "Don't be off somewhere else – be at home for your children."