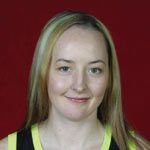 Deadly Vibe Issue 93 November 2004
She shoots, she scores
This year's Deadly awards were so jam-packed with talented Indigenous people that in just about every category it was a struggle to predict the winner.
One of the hardest categories to judge was Female Sportsperson of the Year, as four sublime female athletes – touch footy star Bo De La Cruz, Olympic softballer Stacey Porter, netballer Alison Tucker and basketballer Michelle Musselwhite – squared off for the Deadly.
The eventual winner, however, was the unassuming and extremely talented Michelle Musselwhite, who plays for the Sydney Flames.
"It was really unexpected," says 22-year-old Michelle, who has enjoyed an amazing ride from Dandenong in Victoria to Sydney and the top of the WNBL. "When they read out my name, I just said, 'Oh my God and started shaking'. I've been shaking all night. This is my second Deadlys awards and it's great to be a part of it. I hurt my knee two weeks ago and I'm out for six weeks but I'm so glad that I could be here tonight – it's always an enjoyable night.
"There were so many highlights tonight. Everyone was brilliant and it's great to see all these people out here. And it's great to know that there are so many people out there supporting me."
(story 1/11/2004 end)
Deadly Vibe Issue 88 June, 2004
Life's pretty good for Michelle Musselwhite right now. At just 22 years of age, she's in the running to represent her country at the Olympic Games in Athens. But things weren't always looking so rosy.
Despite having moved to Melbourne from her home town of Bairnsdale to play in the women's national basketball league for the Dandenong Rangers, Michelle found herself feeling decidedly gloomy.
"I wasn't too happy," she admits. "I wasn't playing my best, and I didn't have the best relationship with my coach."
But like any true champion, instead of packing up and heading home, Michelle decided to take action. She grabbed an opportunity to move to Sydney and play with the Sydney Uni Flames.
"I still had a year to go on my contract with the Rangers," she says. "It was all a bit messy, but eventually my manager helped me to get out of it."
Michelle recently faced her old team at this year's grand final, but any bad feelings from the past were long forgotten.
"It wasn't too bad at all," Michelle recalls. "Everyone was very professional, and I'd already had to face them earlier in the season. But the first time I had to play them, I was really nervous!"
It's been an impressive four years for this quietly spoken girl who sports a tattoo of Tweety Bird on her left ankle. In 2001, she was named the ABA youth player of the year, as well as being selected for the women's All-Star Five team.
Last year she was selected to play with the Sapphires – Australia's under-21 team – at the World Championships in Croatia. She returned as the top three-point shooter of the competition, and Australia's highest-scoring representative.
"The World Championships was the first time I had played representative basketball for Australia," says Michelle. "Most of the other girls were from the AIS (Australia Institute of Sport) and had international exposure. I was pretty scared."
Michelle was one of four nominees for Female Sportsperson of the Year at last year's Deadlys, and she has also been a role model for the Vibe 3on3.
"The Deadlys were awesome," Michelle enthuses. "I got to meet some real champions. And I really enjoy going to 3on3s, with all those little kids hanging off you. It's great to be able to do something to inspire people. But it's a lot harder to find the time these days, with so much training going on."
Michelle has to train every day, as well as studying for a sport and recreation traineeship, working full-time and attending Opals training camps as part of the Olympic selection process.
"The training camps are pretty intense, with a lot of fitness work and things," says Michelle. "But I get to play with people like Lauren Jackson, who I've learned so much from."
Even if she isn't selected for the Olympics this year, Michelle is not going to let it get her down.
"I'm still only 22," she says reasonably. "If I miss out this time I've still got the Commonwealth Games in 2006 and the 2008 Olympics to aim for!"
Story date 1/06/2004 end.